10W Stereo monoblock HiFi vacuum tube amp PlugIn 2A3 45 6B4 6V6 6L6 w. 8 tubes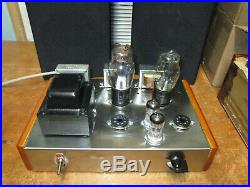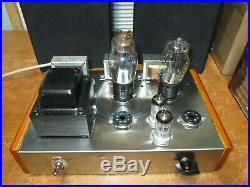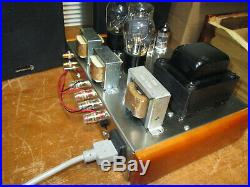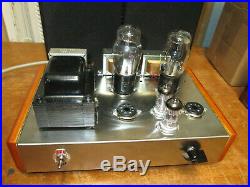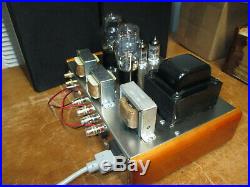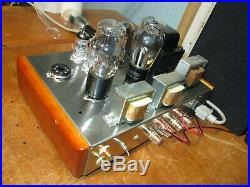 (6V6s and 6L6s not shown, you get them also, unless you want type 45s). For Sale is this 10+ watts class A single ended 2 channel stereo monoblock Hi-Fi vacuum tube amp with 8 new tubes including two 12ax7s, and lets you plug in 6V6 6L6 or SET single ended triode tubes 2A3 or 6B4G. No adjustments, its autobias, just plug in any of these output tubes.
Can Output about 12 watts (6 watts/channel) with most tubes except 10 watts 6V6s. You can switch between stereo 3.5mm(1/8) input or RCA inputs.
Drives your 4-8 ohm speakers. Plenty of gain for an iPhone6. Includes input cable your choice: 1/8 (3.5mm) plug to plug cable, or RCA plug to RCA plug cable.
Let us know what cable you want. We also have the flat multipin cable looks like charger cable and is for iPhone 6-10.
The secret to the great sound is hi-fi singled ended output transformers, over 3 million uF of filter capacitors, and pure DC to filaments! This is an upgrade over AC filament amps. If you ever tried an AC filament 2A3 amp with hum adjust, you can adjust out the hu m at zero volume, but crank up the amp and quickly turn down the volume, the filaments sag a little under load, youll hear hum till the 2A3 cools down again. We tried amp at minimum volume, and max volume plugged into an iphone with video on pause with several brands of 6V6s, 6L6s, 2A3s, and 6B4s (including ones you get) we found impressively low noise- 0.000 to 0.001V worst case of all of the above. We just added switch in the back (picture still shows open slot for switch), you can switch between 2A3 and type 45, as well as plug in types 6V6 6L6/5881/KT66 or 6B4 triode.
You get the 8 tubes with stars below. We measured these output powers (per channel) with signal generator and the new Tung Sol 12AX7s you get driving these power tubes. NIB new Tung Sol 12AX7 pair. 6L6- 6L6WXT/ 5881 / 6L6GC 7.1 watts (6.6 watts for 6n3c). Sovtek 6B4 5.8 watt.
Chinese 2 plate (RCA clone) 2A3 7.3 watts. Chinese Sino/Shuguang single plate 2A3 7.8 watts. Sovtek single plate 2A3s 8.0 watts back switch gets switched to "2A3 only" middle position for 2A3s only. Vintage ones sound great also. Russian 6n6c / 6V6GT 5.1 watts.
(you could have nice pair of vintage RCA type 45 tubes instead of 6L6s and 6V6s if you want for same price). Russian Svetlana (crylic 6S4S / 6C4C) 6B4G 6.7 watts. NIB Sylvania 6B4G 5.8 watt. Vintage used type 45 tubes sound great a few watts from amp.
You run any pair of these output tubes. If you accidentally plug in 4 output tubes at once for a minute, it won't hurt amp, but its made for 2 output tubes. Sides have minor scratches on wood, we are looking for matching urethane to fix scratch, will update picture. 401837669849, the feedback we received was. This 10W Stereo SE amp taking all sorts of tubes is AMAZING!
It has 2 switches on back "2A3" only, this position tweaks the filament voltage for 2A3s (if not set to 2A3 their heater would run around 2.4 instead of 2.5V which would reduce plate current). And "45 only" this reduces the B+ high voltage from about 400 to 305 volts for type 45 tubes which are made 300 volts design center maximum (a voltage tubes are supposed to last thousands of hours at). If you want a NOS Realistic 42-2101A magnetic phono level preamp (RCA input jacks with RIAA equilization and RCA out jacks with cable to amp), you could have that instead of the 6V6GT pair for the same price. Just ask us to Include Preamp instead of 6V6s. The item "10W Stereo monoblock HiFi vacuum tube amp PlugIn 2A3 45 6B4 6V6 6L6 w.
8 tubes" is in sale since Wednesday, November 20, 2019. This item is in the category "Consumer Electronics\Vintage Electronics\Vintage Audio & Video\Vintage Parts & Accessories\Vintage Transformers".
The seller is "gobble75" and is located in Phoenixville, Pennsylvania. This item can be shipped to United States.