2 Demeter VTHF-300M Tube Power Amplifiers (mono block, 300W) with custom upgrades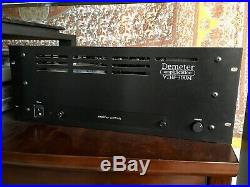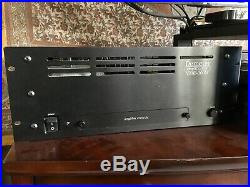 You are looking at a pair of Demeter VTHF-300M tube power amplifiers (see specs below). These are unbelievably beautiful sounding, audiophile-quality, tube amps that I have used in my home hi-fi stereo system. They were also designed to be amazing, road-worthy bass amps. James Demeter himself told me that famed record producer Rick Rubin has used these as reference amplifiers in his personal home hi-fi system and that the bass player for acclaimed fusion band Dream Theater also uses one as his bass amplifier on tour. They are in excellent condition and have been well-cared for. These amps have a few significant upgrades that I would like to point out. Receipts will be provided as proof of everything described below. 1 Each amp has recently been re-tubed by renowned amp maker/repairman Todd Sharp at Nashville Amplifier Service.
These new tubes are a big sonic upgrade from the stock tubes that came with the amps. Each amp now has 8 Genalex Gold Lion KT88 power tubes (Russian re-issue). The pre-amp section of these amps have been upgraded with 2 new NOS Mullard 12AT7WA/CV4024 tubes and 1 new Sovtek 12AX7WB tube. 2 The power grid here in Nashville (or anywhere for that matter) can often be very unpredictable.
The voltage can sometimes surge up to 130v. Todd Sharp has installed a 115/6.3v 8a, 50W bucking transformer in each of these amps so that the voltage coming in does not get too high and ultimately start blowing these expensive, hi-end tubes.
This is a huge feature that will keep these tubes well-protected and glowing for years. 3 Another upgrade that Todd Sharp has installed in each of these amps is a custom-made standby circuit just like that found in guitar amplifiers. When you turn on the amp, the tubes are allowed to warm up for about 45 seconds before getting full power applied to them. When the 45 seconds is up, the amps automatically switch off of standby and are powered on and ready to go.
When tubes are warmed up before getting power, the chances of blowing them is greatly reduced. This is another awesome feature that keeps the tubes well-protected. 4 In addition to the gold-plated RCA input connector, James Demeter also installed a Jensen balanced 3-pin (XLR) input in each of these amps. 5 Each amp also has a ventilation/cooling fan installed that can be turned on or off.
Hopefully, if you are interested, you will be within reasonable driving distance to the Nashville area. Enjoy these ridiculously great sounding amps! PRODUCT DESCRIPTION (before the upgrades above) from the Demeter website. Designed for heavy duty use, the Demeter VTHF-300M is equally at home in the studio or on the road. Its all tube high fidelity design rivals and surpasses the sound quality of many of the so-called audiophile amplifiers, yet sells for substantially less.
Its awesome power (300 W RMS pentode/150 W triode) can run any speaker through its paces with the accuracy, definition and fullness that only tube amplifiers can deliver. Using only the best quality components.
Output power: 300 watts RMS pentode / 150 watts RMS triode. Output impedance: 4 and 8ohms. Nominal input impedance: 100 kOhms. Bandwidth: 20 HZ to 20 kHz -0.7 dB.
Preamp tubes: 1 - 12AX7a, 1 - 12AT7a. Power tubes: 8 - Svetlana 6550c. Mounting: 4 space standard rack.
Operating voltage: 240/120 V AC. Dimensions: 7" x 19" x 12.
The item "2 Demeter VTHF-300M Tube Power Amplifiers (mono block, 300W) with custom upgrades" is in sale since Sunday, January 12, 2020. This item is in the category "Consumer Electronics\Vintage Electronics\Vintage Audio & Video\Vintage Amplifiers & Tube Amps".
The seller is "jmmowery" and is located in Hermitage, Tennessee. This item can't be shipped, the buyer must pick up the item.
Modified Item: Yes
Model: VTHF-300M
Type: Tube Amplifier
Country/Region of Manufacture: United States
Modification Description: Custom upgrades