2 Single-ended vintage 45 mono block tube amplifiers Tamura output transformers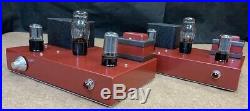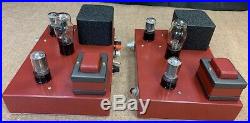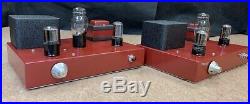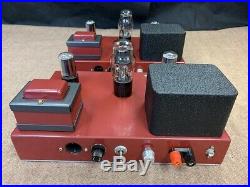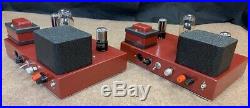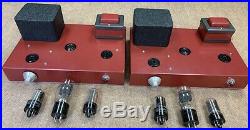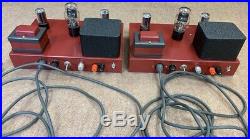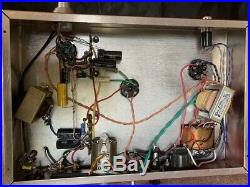 2 Single-ended custom 45 triode tube stereo class A audio amplifiers with Tamura output transformers. Beautiful gold over brown color. Chassis size is 8" x 12 X 3".
These amplifiers feature vintage parts made in USA or Japan. No Chinese low quality circuit boards. Many so called custom built triode amplifiers use re-labled transformers and tube sockets that are made in China. The vintage parts I use that makes the difference.
These are truly custom built in my shop by me, one pair at a time. These amplifiers feature Vintage Japan made Orion filter chokes. Heavy chassis, with metal bottom covers and high quality rubber feet. These chassis will better support the quality transformers.
ElectroCube audio grade Mylar capacitors. Point to point hand wiring, with no circuit boards that are difficult to repair and often go bad. If other sellers do not show under the chassis it may be because they use overseas circuit boards.
Top quality Orion japanese power transformers. These are top quality professional grade and can run all day and not get hot. Switch craft made in the USA RCA input jacks connectors. Superior brand 3-way speaker connector, that will not break or come loose.
Solid copper buss bar ground strap wire. High voltage new old stock US Military-grade Amphenol tube sockets, that will last forever used on the 8 pin tubes. Not the junk ones from China that fall apart with normal use. High-quality solid alumiumn volume knobs, with set screws. Not the plastic ones most people use that crack and fall off.
New old stock Military surplus, vintage adjustable hum rheostat. The best quality ever made.
Vintage Hammond quality made in Canada 2.5 volt filament transformer. Not Chinese transformers that are low quality. Clean deck no excessive screws bolts hardware or nuts showing. Open chassis not congested with parts two close together, which can cause audio hum. These are the best sounding amplifiers available anywhere, Single-ended with Tamura output transformers. The 45 tube is the most musical tube ever invented, Beautiful clean clear highs and warm but very crisp bass.
You will notice the difference the second it comes on. I sell both single chassis amplifiers as well as mono amplifiers. You should consider which would work best for you.
Some like everything on one chassis. Others like the ease and size of a two chassis system, and that you can use each as a mono amplifier. To me the mono block amplifiers take more to build as they need two each of the following, power. Transformers, chassis, rectifier tubes, filter chokes, and so on. Keep in mind the sound is the same.
If you would like a different color or any small changes let me know maybe I can make a custom amplifier just for you. The best parts that were ever available regardless of what year these parts were produced.
Like in these amplifiers, I might use tubes from the 1930's, transformers from the 1960's, tube sockets from the 1940's, and modern top-quality Hammond made in Canada filament transformers. I started building these amps because of the low quality parts used in new products. The transformers open up, or the tube sockets break, or many times the RCA connectors come loose, or the screws that hold the speaker wires on strip out --and most of the time they just cannot be repaired.
I only hand wire point to point connections in my shop my self. The other reason I build my own amplifiers is I can use some of the best triode output tubes ever made, in combination with a single-ended Class A output design.
I can build Amplifiers that were never available for mass production. I also use low-mu triode tubes for sound quality, and to lower the chance of micro-phonics. I borrowed some of my design features from older designs used by Brook and Fisher used in their best quality studio laboratory amplifiers. This is the best watt I have ever listened to", ". Only one way to describe the sound of this amplifier: breathtaking.
Great sounding amp Good packing Excellent service Thank you!! Amp has superb build and sound transparency that reveals deeper layers of music. This amplifier will put out about 1-1/2 watts per side to 8-ohm speakers (remember it is the first watt that counts). Glow in the Dark audio says this is the best 45 amplifier I have ever heard. To make these amplifiers sound best you should use efficient 8-ohm vintage speakers, like Klipsch, JBL Tannoy, Jensen, Altec and other speakers rated around 20 watts or less.
My son runs a pair of Klipsch Heresy with his identical amplifier and it has the power to spare. This amplifier will not rattle the windows with power, but at normal listening levels, it will amaze you, and fill a room with plenty of great sound. I never use transformers made in China. The Tamura Tango transformers give my amplifiers that magical sound that no other amplifier can match and you can only get from Class A Triode single-ended design. Tamura no longer makes these transformers and the ones I used in this amplifier were made back in the 1960's. These are hand wound inner-leaved permalloy output transformers, and they produce a magical sound that you cannot get from any other transformers. The output transformers are designed for 8-ohm efficient speakers. Sellers that tell you that it does not matter what ohms speakers you connect to their amplifiers are wrong. You should only connect the proper ohm speakers to the corresponding connection. These Tamura output transformers have a 5000-ohm primary which is perfect for the SE 45 tubes.
Some sellers will say you can use several different numbered output tubes in their amplifiers. If that were true transformer manufactures would not need to build transformers to match up with the exact output tubes, they could just make a couple of output transformers that would work for many tubes. A 2A3 tube amplifier should have a primary transformer that is 2500 ohms. The 45 tube requires a 5,000-ohm output transformer.
You cannot have an output transformer that would be the perfect match for a 45 and at the same time a perfect match for a 2A3 tube. It would be a bad mismatch for either the 45 or the 2A3 or maybe both.
When you match up the correct Tamura output transformer to the correct triode tube you get those crystal clear highs and the very clean bass punch you have been looking for. My custom amplifier projects start off as raw Bud or Hammond brand metal chassis that I punch out, then sand and finish. I round and shape the corners so they are smooth. This amp is all hand-wired. You will enjoy the heavy, quality feel of this amp, the smooth rounded edges on the chassis, and the quality hardware nuts & bolts using lock washers securing the parts. It takes me about one week to build one of these from start to finish, and longer to source the vintage top quality parts I want to use.
This amplifier comes with the used. MADE IN THE USA tubes you see in the picture.
I DO NOT USE THE CHINESE KNOCK OFF TUBES. You may at some point need to upgrade to new or more expensive new old stock audio tubes-and I will leave that for the new owners to decide.
Please keep in mind tubes like light bulbs do not work for ever. PLEASE CHECK MY OTHER AUCTIONS TODAY. I will be OFFERING OTHER HAND MADE CUSTOM TUBE AMPLIFIERS.
If you want a custom color or a different output tube compliment please message me. I can build 45 2A3 or 300B triode amplifiers.
This is not my site but a great place to gain a great understanding of single ended hand made audio equipment. The item "2 Single-ended vintage 45 mono block tube amplifiers Tamura output transformers" is in sale since Friday, August 28, 2020. This item is in the category "Consumer Electronics\Vintage Electronics\Vintage Audio & Video\Vintage Amplifiers & Tube Amps". The seller is "eclectic_electrics" and is located in Grass Valley, California. This item can be shipped to United States.
Model: Tamura OUTPUT Transformers
Modified Item: No
Country/Region of Manufacture: United States
Custom Bundle: No
Brand: custom hand made
Non-Domestic Product: No
Type: Power Amplifier