Blueprinted Custom Guitar/Hi-Fi Monoblock Baldwin Tube Amplifier & Dynaco Pre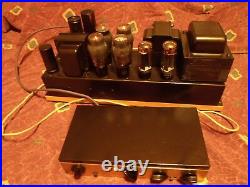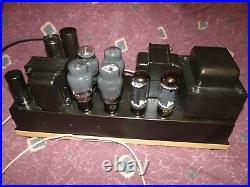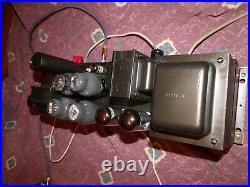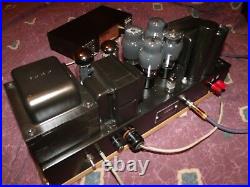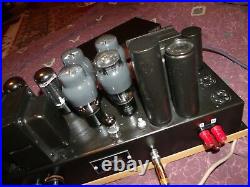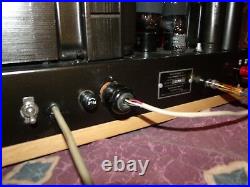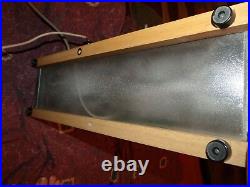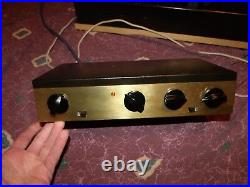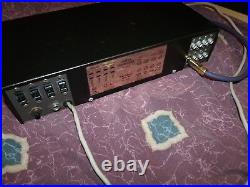 From my friend, the retired studio technician, we are proud to offer another of his fine Custom Build Vintage American Tube Amplifiers -- he is a meticulous and extremely knowledgeable gentleman whose arthritis precludes more than a few builds yearly, and we have placed 5 or 6 of his amps with some very satisfied customers. He is darn good; after 3 other techs tried to solve a red-plating power tube problem in a 1965 Fender Deluxe Reverb guitar amplifier, he fixed it! We all wish he were able to work regularly!
These are first a blueprinted Baldwin Model PC all tube point to point wired 40 watt power monoblock amplifier featuring dual push pull cathode biased 6L6 pentodes with massive power supply with huge inductor LRC filtered design and twin paralleled 5U4 rectifiers, plus an early European Philips 12AX7 dual triode driver phase inverter. The remaining tube compliment is four American RCA coke bottle 6L6Gs and two US Sylvania black plate 5U4s. These provide true HiFi audio bandwidth and linearity into either 8 or 16 ohm impedance loudspeakers.
The matched first generation Dynaco PAM1 preamplifier, which is powered by the power amp utilizes two vintage European ECC83 12AX7 dual triodes with DC heaters, cathode follower output and pure single ended class A circuitry. For the glass audio collector or music archivist demanding absolute lab grade playback of early transcription LPs, 78s, and later RIAA equalized vinyl records the combination of three selectable phono EQs plus two selectable phono gain stages accepting any moving magnet and many moving coil cartridges with two line inputs and tube buffered record out and tape playback capability is exceptional. For the studio or stage guitarist the very high gain microphone instrument input delivers huge linear clean channel tube performance with instant provision for any rack or individual effects addition using the tube buffered EFX loop.
For any music ranging from listening to the subtle nuance of classic Jazz played back through a Klipsch Tannoy or EV corner horn systems to screaming rock guitar leads driving alnico Marshall or Fender cabs this may be an ideal solution. Not for the faint of heart and certainly not for the amateur ==. 1950s Baldwin Model tube amplifier specifications. Push pull class A/B1 circuit design using four 6L6 type pentodes which.
Are cathode biased with 485 volts DC on the plates. Driver/phase inverter is a 12 AX7/ECC83 dual triode. Power supply is true LRC type, tightly regulated with massive. Inductive capacitive filtering using a massive inductor and dual. Input jack provided is BNC with supplied RCA type phono jack adapter.
Output is triple three way binding post terminals with provision for. Direct connection of 8 or 16 ohm impedance loudspeakers. Power cord has been added for safety and noise concerns, with vintage. The amp has an external fuse block, and an octal female connector for. Suppling 300 volts DC to the remote preamplifier as well as 6.3 volts. AC to supply heater voltage to the DC rectifier /filter supply used. For the preamp tube heaters.
The amplifier has been blueprinted and extensively bench tested to. Easily exceed the original 40 watt RMS continous output power. 45KHZ into both 8 and 16 ohm loads with good dampening and very low. For the audiophile/collector, musicision, or studio purest, all. Internal components are selected 1950s American types including all.
Filter and circuit capacitors, and all circuit resistors. Point wiring is used throughout, with such refinements ans oversize.
Ceramic power resistors for voltage dropping and cathode bias. Resistors, which are standoff chassis mounted for rugged long term.
The supplied tube compliment is four strong, well matched vintage. American RCA large coke bottle 6l6s, two black plate American Sylvania.
5U4s, and a carefully selected vintage European Philips ECC83/12 AX7. The input circuitry utilizing the dual triode voltage amplifier and. Phase inverter is relatively voltage hungry, requiring 2 volts RMS.
(+3db) to drive the amplifier to full output, therfore in this. Application the onboard master gain potentiometer should be left in. First generation 1950s Dynaco PAM-1 monophonic preamplifier specifications.
Pure class A triode circuitry deaign using two ECC83/12AX7 dual triodes. Classic high plate voltage/ high gain circuit topography, with low. Noise DC heater supplys, and versatile input and gain options. Audio output is a cathode follower design, allowing the preamp to. Provide a low impedence source for the power amplifier.
Power is supplied via the attached umbilicle cable with Octal plug. Termination to the internal filtered DC voltage for all circuitry. From the power amplifier, as well as the 6.3 volts AC which is. Rectified using a Selenium rectifier and voltage doubler circuit, with. Massive filtering to provide the 11 volts DC required by the series.
Wired dual heaters of each 12AX7. The Octal plug cable wiring uses the same pinout for connection as the. Therefore the preamplifier, if desired, can be. Used independantly from the power amp, with power supply connection.
Made to Dynaco power amps such as the Mark II, or by using an original. Dynaco PS-1 power supply made for use with this model preamplifier. All circuit components are selected 1950s American types including all. The preamp provides a choice of three lab grade equalization playback.
Curves for phono reproduction and transcription, including standard. 78, early LP, and later RIAA LP and 45. Two Phono stage are provided.
First is a normal gain stage for use with most vintage or modern. Moving Magnet mono cartridges, and the second ia a very high gain.
(58db) stage which allow use of lower output cartridges including many. Higer output Moving coil designs to good effect. Two separate line level inputs are provided with 20 db gain allowing. Input from any normal traditional device such and open reel, recording. And stage consoles, and CD players, plus enough gain for signal from.
Puny modern CMOS sources such as portable devices and DVD/CD players. The highest gain circuitry is the microphone/guitar/instrument stage. (with provided Switchcraft 1/4 input jack) which like the line stages. Provides an incredible 8 hz to 60 khz liner response, when the tone.
Controls are at center flat response positions. Component selection, and DC heaters result in extremely low overall.
Noise floor, from the carefully selected vintage European Philips and. A front panel selectable (pre tone control) flat response, tape loop.
Is provided for fully tube buffered recording out and playback. Monitoring when used for transcription in a home or professional. This same circuitry can be used equally well for.
An effects loop when used in stage or recording venues, when the. System is utilized as lead guitar, harp, or keyboard amplification. The separate bass and treble tone controls can be effectively used for. Loudspeaker/room acoustic responase defeciencies, touch up of vintage.
Shellac and vinyl response abberations, and very importantly, huge. Tonal control for guitar applications, with over +/- 14 DB boost and. For anyone not intimidated by the 22 inch wide, 45 lb dimensions of.
This open chassis amplifier, This is a very cool, exceptionally good. Sounding system equally at home aside (or atop) a golden age Klipsh. JBL, Altec, or Tannoy corner horn, as it would be driving a 60s. Marshall 4X12 Celestion loaded lead Cab. We strive to achieve 5 star service!!
If you are not certain, ask questions!!! We describe as accurately as possible and research well but we're NOT an experts nor a techs. We're easy to contact!! We will leave feedback as soon as we receive yours. Also check our other listings for more neat Vintage/used instruments & amps, Vintage Clothes, Jewelry, Collectibles. We will not alter values or list as gift. AK& HI may be a bit more, too = check with us!! We pack very well, but on rare occasions damage may occur - thats why we insure!! Also, I recommend having guitars set up professionally to your liking, our tastes may vary!! Blue Book condition grades: Mint 98%, EXC+. 90%, VG+ 80%, VG 70%, Good 60%, Fair 40%. The item "Blueprinted Custom Guitar/Hi-Fi Monoblock Baldwin Tube Amplifier & Dynaco Pre" is in sale since Monday, March 29, 2021. This item is in the category "Consumer Electronics\Vintage Electronics\Vintage Audio & Video\Vintage Amplifiers & Tube Amps". The seller is "drdavelizzard" and is located in Lubbock, Texas. This item can be shipped to United States.
Country/Region of Manufacture: United States
Type: Pre- and power amplifiers
MPN: Does Not Apply
Brand: Baldwin/Dynaco