Bob Carver Tube amplifier upgraded to VTA305 Pair Mono Block Amps in Mint Cond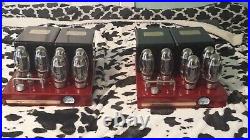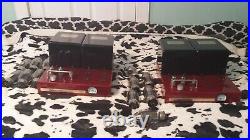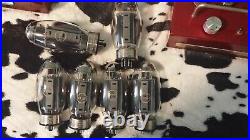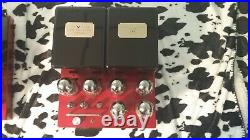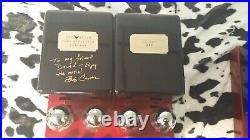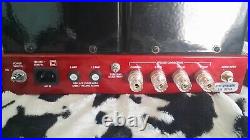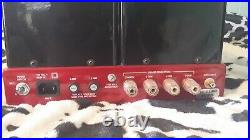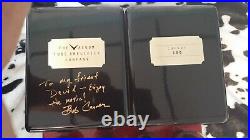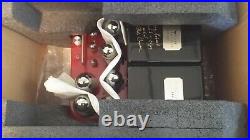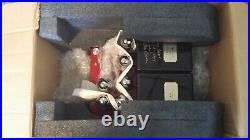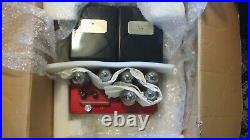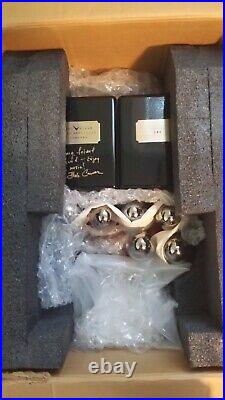 PLEASE READ BELOW VERY CAREFULLY!!! These amps were brand new VTA180M Cherry Red Monoblock's using KT88 power tubes that I had Bob Carver upgrade and re-spec using the uber-powerful KT-150 power tubes. These amps are in effect better than his VTA305M amplifiers with 305W per channel in 8 ohms, 440W in 4 ohms, with capability to work with less than 1 ohms loads.
These amps are the pre-cursors to his Crimson RED 350 amps with less than 1 ohm load capability. The power specs of these amps are similar to the more powerful Crimson RED 350 amps, where both amps produce 440W and 400W in 4 and 2 ohms respectively. Crimson RED use KT120 tubes. My amp uses more powerful and musical KT150 tubes. These amps are individual hand-signed by Bob Carver himself (see pics above)! Bob Carvers measurements shown in BOLD. The rest are the same as his stock VTA-305M monoblocs.
Number of Line Inputs: 1 Input impedance: 100 k ohms Input Stage: 12AX7 current sourced long tailed balanced pair Pre-driver Stage: 12AT7 current sourced long tailed balanced pair. Automatic DC Restoration: 6AL5 Nominal Voltage Gain: 30 dB (into 8 ohms) Output Stage Configuration: 3 complimentary Sets of KT150s in a push pull configuration (6 total) Regulated Screen Supply Voltage: 390V Output tube plate voltage: 785V Output tube Idle Power: 9.8W (stock VTA-305 is 14W) Bias Adjustment: Rear panel pot, front panel meter, set and forget... Bob Carver recommends a 70mA bias setting.
Bob Carver's measured Power Specs. 305 watts into 8 ohms. S ame as stock VTA305M. 438 watts into 6 ohms (no spec given for stock VTA305M). 440 watts into 4 ohms Same as more powerful Cherry RED VTA350M!
330 watts into four ohms. 400 watts into 2 ohms. Same as more powerful Cherry RED VTA350M! 350 watts into 1 ohms (stock VTA305M not rated for 1 ohm operation). Noise: > 123 dB A-Weighted referenced into 305W watts...
Bob carver says "better than solid state". I can confirm that these amps are dead silent and thus number is better than the best and quietest DACs out there... Frequency Response: 2 Hz to 180 kHz!! Stock VTA305M spec'd at 2 Hz to 85 kHz. Full Power Bandwidth: 22Hz to 46KHz Extended full power response by almost 20kHz!!! Stock VTA305M spec'd at 24 Hz to 28 kHz. Feedback Control Switch: 20dB for Vintage Amplifier Sound, 11 dB for Contemporary Amplifier Sound. Distortion: Less than 0.5%... 0.32% for these modified amps at rated power. Though its an o rder of magnitude less (10X or more) at normal listening volumes. Output Impedance: 0.5 ohms... Stock VTA305M spec'd 1.3 ohms.
Output Transformer: Interleaved windings, super wideband low leakage inductance design. Bob Carver says of this custom design This amp is going to sound stunning! There is no doubt in my mind that they will sound stunning! , and after the mods were finished... Listening tests confirm we are in the presence of greatness!
Many positive reviews of the VTA180M or VTA305M abound online. I personally recommend a 72-96 hour tube burning before serious listening tests are done, since tubes have been dormant for almost 4 years in a temperature controlled storage room. Speaker outputs: 2, 4, and 8 ohm terminals... But use the 8 ohm terminal only per Bob Carvers.
Built in Output Tube tester: Yes. Construction Method: Point-to-Point hand wired axial and radial leaded components with star grounds and no circuit board traces or de-pluggable connectors.
Components: High reliability wire wound and metal film resistors, Metal polyester capacitors in the audio signal paths. 2 power cords included, though not the original stock power chords. Soft PDF Manual for the VTA-305M can be provided. It is also available online. Weight: 42 pounds Dimensions (WHD): 12.5 x 7.75 x 17 Color: Glossy Cherry Country of Origin: United States of America.
The item "Bob Carver Tube amplifier upgraded to VTA305 Pair Mono Block Amps in Mint Cond" is in sale since Friday, May 21, 2021. This item is in the category "Consumer Electronics\Vintage Electronics\Vintage Audio & Video\Vintage Amplifiers & Tube Amps".
The seller is "dmusoke7" and is located in Lowell, Massachusetts. This item can be shipped to United States.
Model: Bob Carver VTA305
Modified Item: Yes
Country/Region of Manufacture: United States
Custom Bundle: No
Type: Tube Amplifier
MPN: VTA-305M (plus)
Modification Description: Bob Carver modified the VTA180M stock amps to use the KT150 power tubes. They are more powerful than the VTA-305M (350W/Ch) Monoblocks. He designed them to work with my under 1 ohm MartinLogan XStats.