Custom Built Tube Amplifiers by Tube Nirvana 2 Mono blocks. KT120 based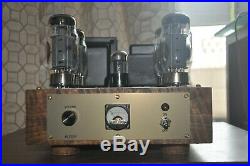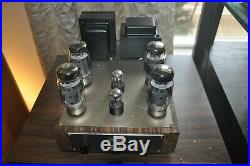 MOVING OVERSEAS - NEED TO SELL FAST. Need to sell as my move is coming closer. Custom Built Tube Amplifiers by Tube Nirvana - 2 Mono blocks.
Buddy Pair - These are a pair of Custom Tube Amplifiers that are amazing to listen to. Buddy is the monster of our power amp lineup, a 120W mono block - quite the performer! As the'mono block' description infers, two Buddy's are required for stereo and this listing is for TWO!
Power output with 4x Tung Sol KT120 power tubes: 120Watts from 17Hz to 40KHz at less than 1% THD in ultra linear mode. Frequency response: 10Hz to 35Khz +/- 0.1dB at 120Watts. Power bandwidth: 17Hz to 40Khz +/- 0.3dB at 120Watts. Sensitivity: 1.5 volt in for 120Watts out. Input impedance: 270,000 ohms.
Hum & noise: > 95dB below 120Watts output. Power requirement: 120VAC 60Hz; or it can be wired for 220-240VAC 50Hz. Dimensions: 10"W x 17"D x 9H. Buddy is built around a quad set of KT120's beam tetrodes in a parallel push-pull configuration with a preamp/driver section consisting of two superb sounding Shuguang Treasure CV181-Z's, a 6SN7 equivalent tube.
Model Buddy uses an Auto Bias circuit, identical to the one used in our model Elvis 60W/CH stereo power amp. This takes the guess work out of keeping the bias for the big KT120's at the correct level. We set the bias, then you'll never have to worry about adjusting the bias again! Due to the power that Buddy delivers, nothing but the highest quality output transformer will do this demanding job.
That is why we chose the Lundahl LL1679 OPT. Buddy is handcrafted to the finest standards using the excellent Tung Sol KT120 beam tetrode and a pair of matched factory new Shuguang Treasure CV181-Z's. The KT120 is one of the very few power audio tubes that can deliver this kind of grunt without being over-stressed.
This is a well built tube, and it delivers an amazingly clear and detailed sound with good bass to boot! The CV181-Z is a very reliable and solid performer, easily one of the best octal preamp tubes to be had and is the. Equivalent of the venerable 6SN7.
There are literarily thousands of NOS 6SN7's out there, allowing the user to try out many different brands with varying. Of this classic tube - also known as tube rolling - which can have a positive effect to the overall sound of this amplifier. Please note that it will take time for these factory new CV181-Z's tubes to settle in, generally about 50-100 hours. Since two Buddy's are required for stereo playback, as standard they are built and delivered with mirrored chassis, that is a left- and a right-hand chassis.
We can of course on request build two right-handed or two left-handed chassis. This circuit is based on the classic Mullard amplifier design of the 1950's and holds with our philosophy of keeping things simple and allowing the tubes to work their magic.
Even though we use factory matched KT120's, they are still different enough that individual tube bias adjustment is required. To that end, we now use the excellent AB-Q auto bias module. Bias is pre set by us and from then on will never require adjustment again.
The Auto Bias module will compensate for aging tubes as well as the slight difference bewteen each KT120 power tube to keep the bias for each tube at the pre set optimum operating level for the best sound and longevity of each KT120 output tube. A set of green LED's, one for each KT120, are on the top plate to indicate the bias condition.
If all four are ON, all is good. If a LED should go out, that indicates that the particular KT120 needs to be replaced. Part of the Auto Bias module is a soft start.
After each power on, it will take about 40s for the LEDs to go on and this then means that the amp is ready to use. Power is supplied by our own power transformer and that is custom built for us by Heyboer Transformers. It is a solid state rectified and choke input power supply followed by a CRC circuit to arrive at the various levels of the high voltage B+ required by Buddy. The power supply choke is none other than the superb Lundahl LL1638.
To limit inrush current when first powered up, we use an NTC (Negative Temperature Coefficient) thermistor. Only high quality components are used in the construction of Buddy. All power supply electrolytic capacitors are Nichicon high voltage snap in caps. Film capacitors are WIMA, and coupling capacitors are Russian PIO (Paper In Oil), hand picked and matched by us from our very own collection.
Resistors in the signal paths are Vishay CMF and RN low noise military spec film resistors. RCA sockets are gold plated, and speaker posts are Rhodium.
The printed circuit boards are designed in house and manufactured to FR4-TG standards. They are double layer with full ground planes on both sides to ensure complete screening of the circuits. The power transformer is our own design custom built for us by Heyboer Transformers. The output transformer is the first class Lundahl LL1676.
You have a choice, of woods for the chassis. African Padauk (pictured), Birds Eye Maple in a natural/blonde finish or Tiger Maple in a natural finish. Top and front anodized aluminum plates are available in black, silver or bronze. Other colors are also available on request and may incur additional cost. The item "Custom Built Tube Amplifiers by Tube Nirvana 2 Mono blocks.
KT120 based" is in sale since Sunday, January 12, 2020. This item is in the category "Consumer Electronics\Vintage Electronics\Vintage Audio & Video\Vintage Amplifiers & Tube Amps". The seller is "xzenso" and is located in Denver, Colorado. This item can be shipped to United States.
Custom Bundle: Yes
Model: Tube Nirvana Power Amplifiers
Type: Tube Amplifier
Bundle Description: 2 Mono Blocks
Country/Region of Manufacture: United States