Dynaco Mark VI Vintage Monoblock Tube Amplifier Pair, 120W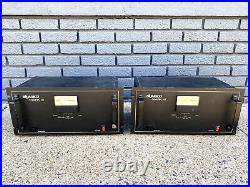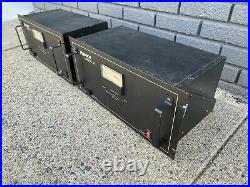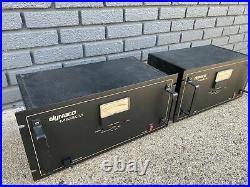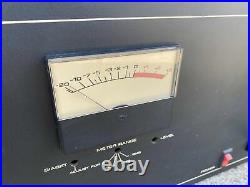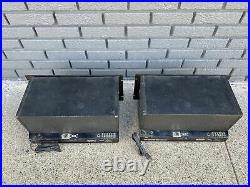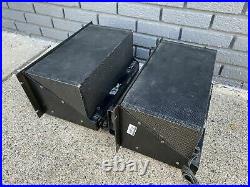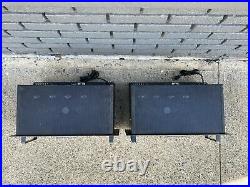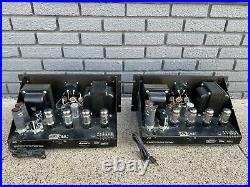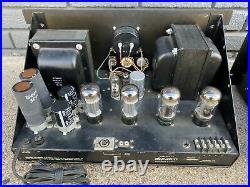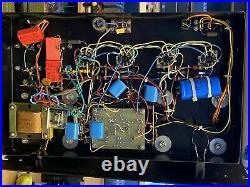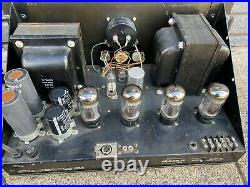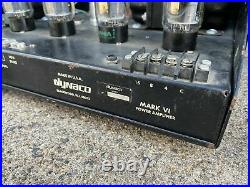 No mid-fi, no gimmicks, no junk. Each piece of equipment is cosmetically restored and fully tested in our well-equipped lab by an engineer with 30+ years of experience in the HiFi world.
Through our sister company, which is an authorized dealer for McIntosh, Audio Research, Sonus Faber, ClearAudio, Project, and Sony ES, we have access to OEM parts, service, and support. This listing is for a working set of Mark VI Monoblocks in working condition. Features rare XLR inputs for an amplifier this age. Cool bias meter on the front with rack handles.
This pair of amplifiers is labeled "Dynaco Wired", however they have underwent a significant modification at some point in the past. The majority of the electrolytic capacitors were replaced, film bypass capacitors were added to the various power supply rails, and slow start relay circuits were added to delay the B+ voltages. Other modifications may have been performed that we are unaware of that sharp Dynaco aficionados may recognize.
Both amplifiers were tested to their rated power of 120W. Both meter lamps and meters are working properly. Tubes include RCA 7199, and a mix Sylvania and Philips USA 8417. Please see our pictures for overall condition. The Mark VI is a vacuum tube high power basic power amplifier designed for the professional sound installer.
Vacuum tubes are most often favored in their ability to withstand enormous physical and electrical abuse - conditions frequently encountered in discotheques, public address and musical instrument applications. Its rugged construction and utilization of superior components, including the patented Dynaco Super Fidelity transformers, permit continuous duty at full power, while maintaining safe operating margins. Protective isolation of the load from the driving circuits, and uniform power output into a variety of load impedances are inherent in all designs which use an impedance matching transformer. The Mark VI employs a basic circuit arrangement which all Dynaco vacuum tube amplifiers have used since the inception of the Mark II amplifier in 1955. Refinements of the operating parameters have been incorporated for circuit balance, stability, and for drive capability.
The components used have been selected to protect against failure, and all parts are operated conservatively to assure superior performance and proper operation for many years. The SkyFi Testing Process for Tube Amplifiers. We start with a visual inspection of all internal components to make sure there are no signs of stress or aging. Capacitors are checked for telltale sings of bulging or leaking, resistors are checked for signs of overheating or cracking, and tubes are inspected for signs of stress overheating or cracking.
We then power up the unit carefully and run a simple 1k sine wave while monitoring the output on an oscilloscope for signs of distortion or noise. Finally we run the amplifier to its full rated power into the appropriate resistive load provided by our Sencore amplifier tester. If there is an issue, it will usually be noticeable at this point.
If it all looks clean we will often test for THD (Total Harmonic Distortion) measured by our Keithley distortion meter, and compare it against the original manufacturers specifications. The amplifier the remains powered on to "burn in" on our test bench for a few hours to make sure there are no heat related issues. If there are balanced inputs available they will also be tested.
We also test all tubes for output gain and leakage on our calibrated modern and professional tube tester against the original manufacturers specifications. If needed, the tubes will be replaced from our vast NOS (New Old Stock) vintage or modern inventory. Final testing involves pushing actual music thorough the amplifier. We've learned over time that some issues are only noticeable to a trained ear while listening to familiar source material. Our test bench has reference vintage KEF speakers that we're very familiar with which quickly reveal any discrepancies.
Some amplifiers will then move into our listening room where they are tested with our in-house reference speakers of choice. 120 watts into 8 (mono). 10 Hz to 40 kHz.
4 x 8417, 1 x 7199. 19 x 10.5 x 8.75 inches. We have too many items for sale and its nearly impossible to keep track of offers outside of the official system. We accept trade-ins of equal or lesser value under certain conditions. Please visit our website to submit your gear for full consideration.
We will only consider high-end equipment from mainstream manufacturers such as McIntosh, Mark Levinson, Audio Research, Krell, etc. And will typically pass on displays, projectors, receivers, dated surround processors, and mid-fi equipment of any type. We will offer a fair value for your equipment, but keep in mind were running a business and will need to be able to resell the equipment at a profit after investing a great deal of time and resources in testing, certifying, repairing, cleaning, and packaging the incoming equipment.
SELL US YOUR GEAR (Working or Broken). Simply visit our website to submit your gear for full consideration. We are currently operating from our shop inside our dedicated building in Glen Rock, NJ. We have several well-equipped and dedicated listening areas, plus a dedicated listening studio with tons of equipment of all makes and models. Were not a store, so please dont make an appointment if youre just curious as to how a speaker or piece of equipment sounds. In essence - no tire kickers please. This is super useful when purchasing large speakers or heavy amplifiers. Its also great for ensuring your new turntable is setup correctly in its final resting place. The item "Dynaco Mark VI Vintage Monoblock Tube Amplifier Pair, 120W" is in sale since Tuesday, November 16, 2021. This item is in the category "Consumer Electronics\Vintage Electronics\Vintage Audio & Video\Vintage Amplifiers & Tube Amps". The seller is "skyfiaudio" and is located in Glen Rock, New Jersey. This item can be shipped to United States.
Brand: Dynaco
Type: Tube Amplifier
MPN: Mark VI
Model: Mark VI
Country/Region of Manufacture: United States