Dynaco MKIII Monoblock Tube Amplifiers Pair Brand New Audiophile Grade Build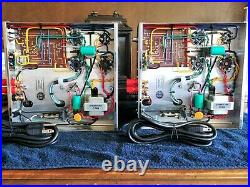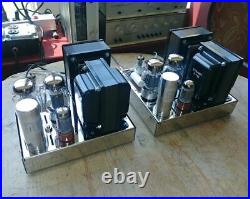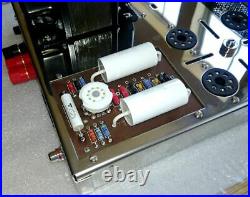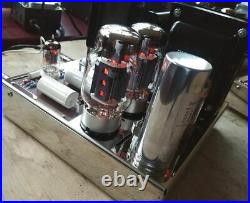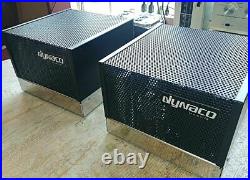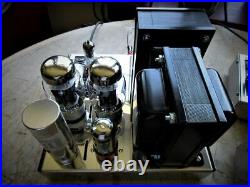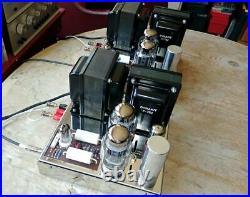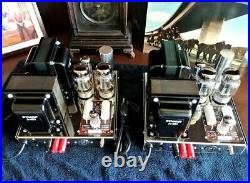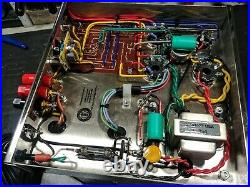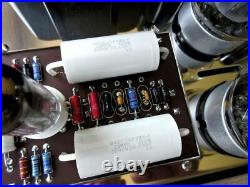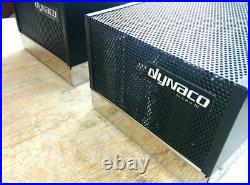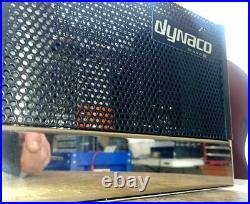 Brand New Dynaco MKIII Tube Amplifier Pair. These amps are designed and built to be a true identically matched set. These are modern, brand new amps made to operate from standard (USA) 120-125 AC current.
You do not need a voltage reducer to run these amps, just plug them in and go. Every part and piece of these amps are brand new. New matched tubes and the amp covers are included in the sale. These amps are incredible sounding!!!
60 watts each, these will make your speakers work! Each MK III circuit board (genuine Dynakit) features CDE 942C series and Vishay 1839HQ series capacitors for superior performance and ultimate reliability. The 940 series have polypropylene film and dual metallized electrodes for both self healing properties and high peak current carrying capability.
These are simply some of the best caps on the market at any price, they sound phenomenal. The smaller pF caps are Kemet MLCC type with NPO C0G dielectric and Cornell Dubilier dipped silver mica.
The resistors are a mixture of 1% screened metal films and 5% carbon films for superb accuracy while retaining the warmth so desirable in tube amplification. Brands are TE, PRP, Vishay, Yageo and Dale. The bias and power supply features KEMET's PEG124 electrolytic capacitors with very long life, rated up to 27,500 hours at +105°C with outstanding electrical performance. The capacitor has a polarized all-welded design, tinned copper wire leads, a negative pole connected to the case, and a plastic insulation. The caps have been further shielded to prevent grounding between the case and the chassis or other components.
The leads are also insulated for safety. The amps are equipped with the upgraded 80/40/30/20 filter capacitor, made in USA, improved performance over a stock build. Each amplifier is equipped and upgraded with the Dynakit "bias balance control" feature. This permits equal biasing and then further balancing of the bias between the individual output tubes for enhanced sonics, extended tube life and higher reliability.
Bias is coarsely adjusted first using the original 10k bias pots. Then the balance is adjusted, this is for equalizing the current between each pair of output tubes. These secondary balance adjustments are made using the additional balance pots and adjusters which are installed conveniently behind the front octal sockets. The adjuster is very discreet and is accessible at the center holes of the already existing front octal sockets.
Full easy to follow bias setting instructions are included. Each amplifier has a genuine Dynakit P 782 power transformer plus a an A-431 Output Transformer - The original (vintage) transformers are inarguably excellent, but they were designed to operate on 117 volts (think 1950's).
Today's household AC current is often near and occasionally higher then 125 volts, so the use of a "step down" or "bucking" transformer is necessary to reduce the voltage down to a safe operating level for any vintage amp having its original transformers. These modern Dynakit transformers are manufactured to work from standard, modern 120-125 volt household AC current. They operate cooler, produce less distortion and outperform vintage transformers in every category. These transformers were reverse engineered from the original designs using many modern manufacturing technologies and superior insulations. These are super high quality USA made transformers that meet and exceed every aspect of the originals. If there were some sort of "magic" in cloth covered leads, Dynakit would have certainly insisted on using them. The truth is, there's simply no magic in cloth covered lead wire. In any comparison, these new transformers are better than those old originals. Modern advancements in materials, combined with traditional methods and better technologies used in the manufacturing has resulted in absolutely superb transformers that produce improved sonics and cleaner power.
These transformers provide less distortion and increased reliability. This is not a 50 year old amp and is not pretending to be one. This is a modern amp based on a ingenious and very successful 50+ year old proven design. All of the wiring is 20 AWG USA made solid core wire and is carefully and tastefully routed and secured in the chassis.
All soldering was done with Kester 60/40 rosin core. The tube sockets on the PCB are high grade ceramic for optimum heat shielding and these have gold plated contacts for corrosion resistance. Of course the amps have the Genuine Dynakit Shielded choke #C-354 for extra quiet operation. Upgraded with Gold Plated Banana Jacks Posts and set up for 4 and 8 ohm output.
Upgraded RCA input jacks, much nicer than stock jacks. Preamp take off sockets are wired for bias set only.
ROE Computer matched JJ - KT88 Tubes - one of the best rated KT88 tubes on the market. Ordered brand new as a matched quad just for these amps.
Matched vintage RCA 6AN8A tubes with original boxes. New Tung-Sol 5AR4 / GZ34 rectifier tubes. 3 Prong Grounded Power Cord with a new Heyco retention bushing. Power switches are C&K sealed type sliders made for long term reliability.
Rated for 10,000 cycles. Genuine Dynakit mirror Polished stainless steel chassis with the satin black covers and custom made solid aluminum labels. The item "Dynaco MKIII Monoblock Tube Amplifiers Pair Brand New Audiophile Grade Build" is in sale since Tuesday, July 13, 2021. This item is in the category "Consumer Electronics\Vintage Electronics\Vintage Audio & Video\Vintage Amplifiers & Tube Amps". The seller is "the_dynaco_show" and is located in Coweta, Oklahoma. This item can be shipped to United States.
Model: Dynaco MKIII
Modified Item: No
Country/Region of Manufacture: United States
Custom Bundle: Yes
Type: Tube Amplifier
MPN: MKIII / Mark 3 / MK III
Brand: Dynaco
Bundle Description: two amps, 2 covers and 2 complete tube sets (one for each amp)