Excellent Pair Altec 1570BT Tube Monoblock Amplifier Peerless Iron Full Recapped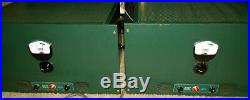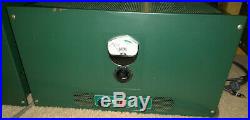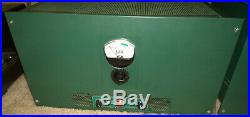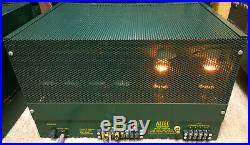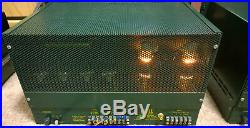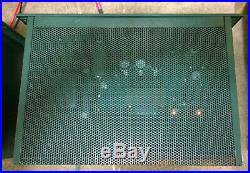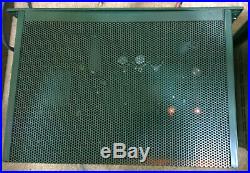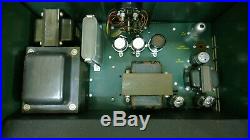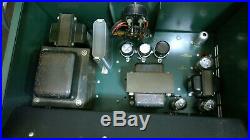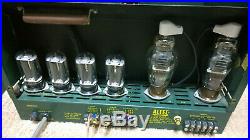 Up for sale is the pair of incredible Altec Lansing 1570BT Monoblock Amplifiers! This pair of Altec 1570BT Amplifiers are in very nice condition and one of the best-preserved pair youll ever see for sale! They featured the incredible sounding Altec / Peerless (Made in USA) output and power transformers. With no music playing, they have very quiet background (no hum or buzz) on my 100dB+ sensitivity speakers after all the tubes are initialized for about 30 seconds since power on!
They can be used as standalone or rack mounted in the standard 19 Rack. They are fully tech maintained and bench tested pair. Other than full recapping for electrolytic capacitors and some additions such as a fuse and a RCA connector, everything else is unmolested. I kept all the factory original parts and factory circuits that do not require fixing or modifications!
Replaced and updated all the old and aged Electrolytic Capacitors in both amps even though the old ones are still working fine. I used the best cap Nichicon Japan and J&J for the electrolytic capacitors.
The old Paper in Oil Cap is also removed from the circuit and used a very high-quality film capacitor for the better sound and quietness. I kept all the original circuit and schematic to the factory. Installed new RCA Connector so you can use your favorite RCA cable instead of the pigtail type used in the original design.
The pigtail hookup terminals is also left intact and can be used instead of the RCA connector as well. Installed a new Fuse Holder and 5Amp Fuse for protection of the amplifier in case of tube failure in the future. Altec never installed a fuse in them since they are supposed to be used with the distribution panels that has fuse in them.
But many people using 1570B without a fuse installed in one will regret if a tube failure occurred. Such tragic event is prevented in my amps with the addition of 5A fuses installed as seen in the pictures. All the other original Coupling Caps, resistors and parts are in very good condition with no signs of aging so I left them alone for the original vintage tone! All the original wiring is in very good condition and no need for replacement. Bench tested both amps and both amps are able to produce very clean 115W RMS power at 8ohm load with no signs of distortion or less than 0.01% distortion.
They are rated for 165W power but at higher distortion. Cosmetically, they are very clean inside out with no signs of abuse or rust. The front covers look very good and near mint condition! One of the front covers has a little paint stain but it is very minor and may be removable. Both amps have very well preserved original factory paint that is still very presentable in person.
The transformers bell covers have some small missing paint and rusty spots as they are nearly 60 years old. But the transformer works perfect and still very well preserved.
You can easily touch up the bell covers with the flat black paint if you wish to. The meter and selector for the tubes monitoring work excellent and all works as intended. Replaced the power on indicator lamp with high reliability LED lamp so theyll be good for many more years to come! They are working and sound really awesome. Tubes included are US Made tubes.
They have unknown amount of usage but still working well and sounds great! Currently, the Altec 1570BT is configured for use in U. S Version so they need 120V from your wall.
The Altec 1570BT uses two 811A triode tubes to provide 170W of Tube Power. The amp uses nearly 1000V DC power internally and this voltage is present on the plate cap of the 811 output tubes. This voltage is more than lethal in any sense when accidentally touched by a live person. Please be aware that you never bypass the safety micro switch and power on the amps for your own safety unless you are a trained technician!
The Altec 1570B and 1570BT are never designed to use without installing the top / and rear cover due to this high voltage present on the plate cap. Do not touch the plate caps (aka anode caps) of the 811A without completely power down the amps and wait a few minutes for the capacitor to discharge and measured the DC Voltage. If you are installing or replacing the tubes, completely shut down the power and remove the power plug. Wait at least 15 minutes before removing the top and rear panel cover. Always wear thick leather gloves before replacing the output tubes. The amp is quite heavy at over 60lbs unpacked.
You will need to install the tubes as marked! Cosmetics Condition (A few things to note)!
Slight imperfections on paints such as scratches, paint losses are visible. You are getting what you are seeing! Listening Test and How they sound?
The amp sounds perfect with no POP, BUZZ, or Hum from the amp! Please note that the Preamp, Speakers, CD Player, Turntable; etc. You see in the video are not included in this sale. Obviously, you are getting only one pair of Altec 1570BT Power Amplifiers from the video and nothing else. The item "Excellent Pair Altec 1570BT Tube Monoblock Amplifier Peerless Iron Full Recapped" is in sale since Thursday, June 20, 2019.
This item is in the category "Consumer Electronics\TV, Video & Home Audio\Home Audio\Receivers & Amplifiers\Amplifiers & Preamps". The seller is "buycompaq4less" and is located in Hesperia, California.
This item can be shipped to United States.
Model: 1570B
Type: Tube Amplifier
MPN: 1570BT
Brand: Altec Lansing