Frankenstein Magnavox Concert Grand tube amp mono blocks and monster speakers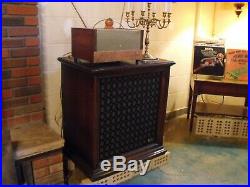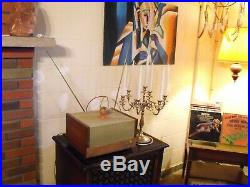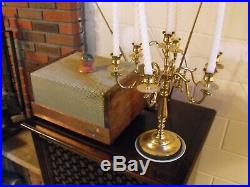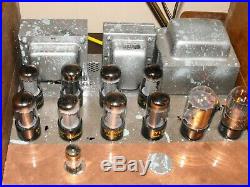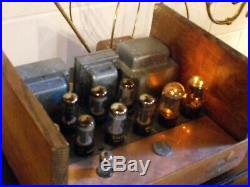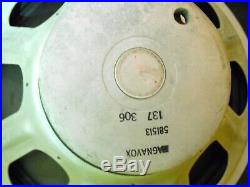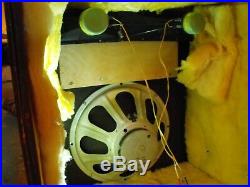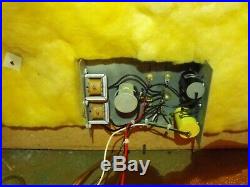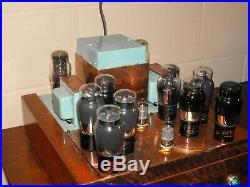 Two mono blocks and two speakers in this sale. I know, my camera sucks but you get the general idea of what this is. It's kind of sad the way all the Magnavox Concert Grands are being gutted for their mono blocks.
In my case, I ran across these mono-blocks that had been separated from their home that had been demolished. I had a set of Heathkit AS-101 Altec Flamenco Voice of the Theater style speakers.
Still I had these amazing sounding cabinets. The third element here is my love of all things Magnavox and interest in their push pull parallel amp configurations. Peter Jensen knew his shit and the other high end follow-ons made some great stuff. Don't get me wrong but I think it's been a big reinventing of the wheel. Rube Goldberg machines but very cool none the less. I'm not here to say my stuff is best. Just happens to be my area of interest. My stuff is all over the globe including Japan. Had a good market there but the import tariffs were murder.
That situation appears to be getting improved by the current administration so I have hope in starting a small part time amp building biz to transition into retirement. Real hope, not that horse shit I signed up for 08. Currently Working on a Mag based PPP EL-84 integrated 35wpc with phono section and remote volume control. Hope that will be my one cover it all model to take the nonsense out of tube hifi. I figure 3-5 years to have good production prototype.
It will look retro too. Right out of the late 60's. So on to the listed item.
If it never sells, GREAT! I mainly listed this to inspire others to work on their stuff. It's funny, a company that allows folks to sell dildos and other assorted sexual toy products has a "decency code" and you can't say "fuuck" in your description - no shit? Typical double standard, socialist, fake news, libtard bullshit.
The mono blocks have been modded from a biamp config to full range 8 tube PPP for about 50 watts each. I use 7EY6 tubes in lieu of 6V6.
7EY6 have 20% more emission and are plentiful at a great price. I beefed up the filtration with massive chokes and caps for increased transient response and dead quiet idling. Custom made the heavy cages out of 1/8 perforated steel. Face plates are 1/8 solid copper.
Everything is very tidy and living room presentable. Pretty chestnut finish and grill cloths. Brushed copper with clear coat. I prefer the Magnavox ceramic magnet speakers made by CTS.
AlNiCo is the only answer for and great for low power applications but get a bit too unstable with higher power amps. A slightly less efficient speaker can be tighter and more accurate, so I choose those. The original Altec horns were designed for a movie theater and way too outlandish for a living room.
I still wanted to have the horn presence but less harsh with some tweeter sizzle. Dual Magnavox Heppner horns to the rescue... Big speaker might but with increased accuracy and less painful. I'd like to sit some Altec guys down in front of these and see how they act without telling them.
I will not be transporting this stuff. You can come hear it and take it after paying for it.
No warranties expressed or implied. The 6V6G PPP coke bottle tube amp is not included in this sale. Picture show to show off my scratch building ideas. The item "Frankenstein Magnavox Concert Grand tube amp mono blocks and monster speakers" is in sale since Friday, December 6, 2019.
This item is in the category "Consumer Electronics\Vintage Electronics\Vintage Audio & Video\Vintage Amplifiers & Tube Amps". The seller is "podpeoplefromtheplanetmars" and is located in Tioga, Pennsylvania. This item can't be shipped, the buyer must pick up the item.