Fully Recapped Altec 1570BT Monoblock Amp Pair 811 Tube Excellent 60s Condition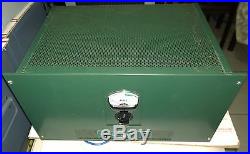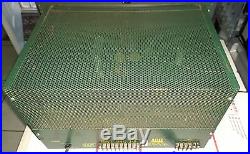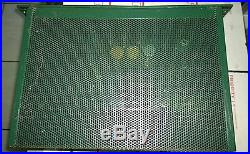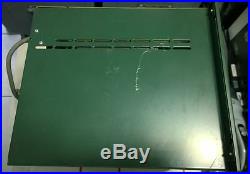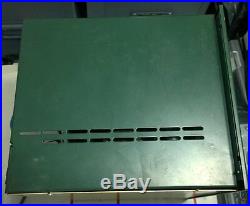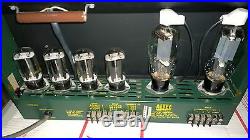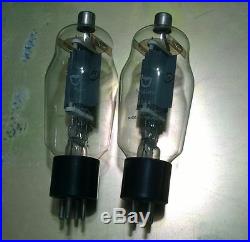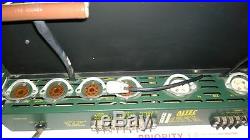 Up for sale is One (yes one amp only) of Altec 1570BT Power Amplifier in nice Original 60s Vintage Condition. Unlike the 1570B, the 1570BT features a nice meter on the front panel with some minor circuitry changes for better stability and sound. The 1570BT is the last and updated version of 1570B.
The amp is very clean inside out as you can see in the pictures. I see little to no rust if any.
This amp has spent it's entire life in Sunny SoCAL in a temperature controlled environment since retirement from the theater. This 1570BT has been fully checked and recapped ALL the old Electrolytic Can Capacitors with the new high performance capacitors as you can see in the pictures. The 6uF High Voltage Oil Capacitor is also replaced with HV film capacitor from Japan.
All other components resistors, signal coupling capacitors, sockets; etc. Seems to be factory original from the 60s and everything works good. The amp works Great and sounds beautiful! THD / Distortion rises dramatically after 110W as expected. Factory SPEC claims 5%THD at full wattage!
Then, the amp is hooked up a CD player and a speaker directly and played it for several hours for a few days. It works great and sounds really good with no hum or buzz heard from the speakers!
But they sounds Great and tested well matched in my tube tester. All the other tubes are U. All the tubes are very strong and good working tubes. Please not that the Preamp, Speakers, CD Player, Turntable, wires, cables; etc. You see in the video are not included in this sale.
Obviously, you are getting only ONE Altec 1570BT Power Amplifier from the video and nothing else. Currently, the Altec 1570BT is configured for use in U.
S Version so they needs 120V from your wall. The Altec 1570BT uses two 811A triode tubes to provide 170W of Tube Power. The amp uses nearly 1000V DC power internally and this voltage is present on the plate cap of the 811 output tubes. This voltage is more than lethal in any sense when accidentally touched by un-trained person.
That's why Altec puts a safety micro switch (also known as interlock) installed in the amp and will be triggered by the chassis pin attached to the back/rear panel cover. The Altec 1570B and 1570BT are never designed to use without installing the top / and rear cover due to this high voltage present on the plate cap. Only a Certified Tube Amp Technician / Experts should work on the Altec 1570BT / B amp for replacing capacitors. You should know how to discharge all the electrolytic capacitor using a proper bleeder resistor. This amp is not for the newbies to mess with.
Also, this amp will not be powered on if the rear / back cover is removed due to the Interlock (Safety switch) is disengaged. The amp is quite heavy at over 60lbs unpacked. All tubes will be marked properly and packed well inside the the amp.
You will need to install the tubes by removing the top / back cover from the amp. Cosmetics Condition (A few things to note)! Slight imperfections on paints such as scratches, paint losses are visible.
You are getting what you are seeing! The way Altec made it back then, the top / rear mesh cover may create a mechanical buzzing / clanking sound from time to time. All it needed is some rubber materials applied to the cover for better damping and I will put a strip of rubber where the cover meets the chassis to quiet this mechanical sound. Listening Test and How they sound?
The amp sounds perfect with no POP, BUZZ, or Hum from the amp! Please not that the Preamp, Speakers, CD Player, Turntable; etc.
Obviously, you are getting Altec 1570BT Power Amplifiers from the video and nothing else. You'll get what I advertised and I will make sure you are happy with the merchandise. If there is a problem, please contact me directly through "Contact Member" Ask Question about How to Use; etc. The item "Fully Recapped Altec 1570BT Monoblock Amp Pair 811 Tube Excellent 60s Condition" is in sale since Friday, October 27, 2017. This item is in the category "Consumer Electronics\TV, Video & Home Audio\Home Audio\Receivers & Amplifiers\Amplifiers & Preamps".
The seller is "buycompaq4less" and is located in Hesperia, California. This item can be shipped to United States.