High-End GM70 Mono Block Valve Tube Amplifier Split SE Class A Integrated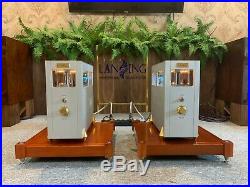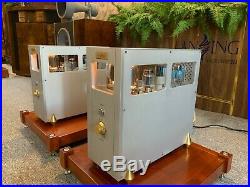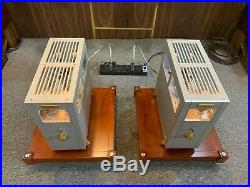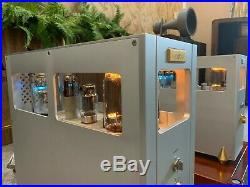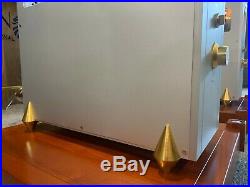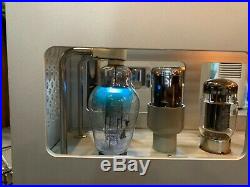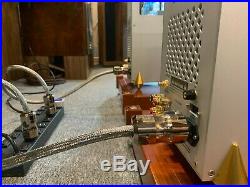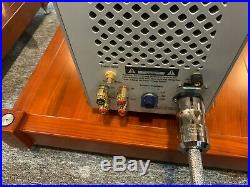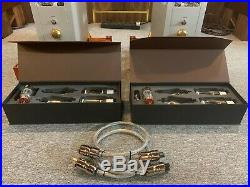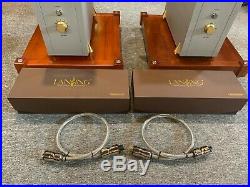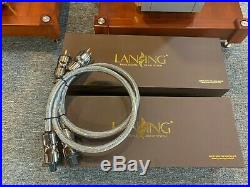 The amp sounds VERY powerful, with strong bass, pure trebles, scary close mids, deep 3-d soundstage - all I wish for and more. All are 100% handmade with the best materials (say no to China) The frame is made of monolithic aluminum with high precision, very strong. I hope there is nothing that can fail, even after 30 years of service. The my choice for this project is the GM70 because in a direct comparison with the 845, the GM70 have the same sound quality. The main advantage of the GM70 is the high voltage gain so it is possible to use a simple one stage driver stage.
Us have used a load of about 10Kohm to get a good damping factor (less than 2ohm) and an anode voltage of 1050V to get a power about 48-50w/ 1 channel. This amplifier have enough power 50w and low output impedance (less than 2ohm) to drive any kind of loudspeakers like full range, low efficiency with 2 or 3 ways and also any electrostatic. The max power is the measurement result increasing the output level until the distortion spectrum decay is perfect but this amplifier will support larger peaks in less linear area. In the 845 amplifiers it is possible use ac filaments reducing the noise with simple 100ohm 3w trimmer and dc filaments are necessary only with if you have very high efficiency loudspeakers (about 100db).
The GM70 require dc filaments with any kind of loudspeakers due to the higher amplification factor and the trimmer are useless. Any amplifiers with dc filaments should use a separated transformer for the filaments because using a single transformer the noise generated by the rectification process in input capacitor power supply is amplified to the anodic secondaries. The amp is built around simple concept: to make it as well made as sanely possible. Why did you choose GM70 Amplifier?
(compared to 845 and 211). A reason why professional manufacturers do not like GM70, is the relatively high heater power of this tube. Though this is the merit of GM70, and the reason why it works so well on medium anode voltage already, the problem is still this increase the cost of the power supply. For which cost increase, they get no return of extra output power. Yet, customers always ask: What is the output power...
What is the output power.... And if the output power of an 845 amplifier is specified at a true and honest 10 Watt, buyers will not even bother to look at it. So if you are looking for best ratio of output power versus cost, you will end up with 211 and 845.
Still, for real HiFi, GM70 is a the much better tube choice. I will explain in the following text. Tubes like 211 and 845 are rated at 20 Watt output, but this is only before the transformer, and is only above 1300 Volts anode to heater.
(So above 1400 Volts in Auto Bias) and it is a matter of taste if you regard the distortion level above 17 Watt has something to do with HiFi. Moreover in Class A, they are by the datasheet not recommended at 100 Watt anode dissipation, but this would be needed to enforce the output power. So there are sharp contradictions here, ending up with "so called" 20 Watt amplifiers, by very high name vendors, effectively running on 1100 Volts only, and can give 20 Watt only at high distortion. At low distortion level as needed you get only 14 Watt or so from the tube, and the transformer looses 2 Watt internally. They are burning down the Chinese tubes at 100 Watt dissipation, whereas even RCA says that is not a good idea.
But to get the power out, they have no other choice. (Instead of blame on bad amplifier design) Tubes like GM70 are much different. First of all, the very high heater power makes is possible to use the GM70 at relatively moderate voltage.
We work at 1050 Volts and still get 50 Watts out one channel. There is no other such tube which can do so. This is amplifier works predictable and reliable.
There are no strange tricks or things that nobody understands. Believe me, it works also if you don't understand it It is just extremely satisfying to adjust this amplifier for best sound, by choosing the working point of the driver stage such, that you will see on an oscilloscope, how distortion disappears, or find this point by hearing tests. The frame is made entirely of aluminum with a thickness of 12mm. Unique split design enhances power supply design, separates left and right channels high, clear sound field and no background noise. Independent potential adjustment for adjusting filament noise.
High transmission voltage has great dynamics and great linearity. The GM70-A1 amplifier Mono block is hand-made in Japan from start to finish by experienced professionals who adhere to critical considerations such as keeping signal wires and power supply wires from running close or parallel to each other. We use point to point (PTP) wiring and quality parts to increase reliability and ensure total ease of replacement during service and maintenance. A point to point (PTP) wiring circuit is one that uses no circuit boards, but makes all of its circuit connections directly between components, using the leads of those components themselves and very little wire. In the PTP amp, the signal path is usually as short as possiblewhich, when done right, can help minimize interference and noise in the circuitand the circuit flows logically from input to output.
The circuit itself, therefore, tends to look very much like the schematic diagram from which it is built. The amplifier is finished on all sides in Aluminum monolithic 12mm.
GM70-PSE amplifiers are laid out logically with an economical signal flow. This kind of construction have the advantages of being easy to repair, because almost any component can be changed by desoldering two easily accessible joints, and lifting out the part. They are also extremely rugged, as the circuit board offers the components some insulation against heat and vibration. Each GM70-PSE amplifier passes an extensive quality control to ensure that it is the best it can be.
We are using mercury rectifiers in here. These light up beautiful, and also are very well suited for high voltage and high current at the same time. Actually producing a rectified almost 1kV with normal (Barium Coated) rectifiers is not really easy to do. Besides mercury rectifiers are virtually indestructible, vs. (Barium Coated) rectifiers are kind of sensitive and difficult to use at such high voltage and such high current at the same time, so we would end up with heavier types like Television booster diodes or similar.
The choice was for those nice Mercury rectifiers. Such types like 866A can be found still as NOS, at reasonable prices, so when you like tube rolling, this is a good choice. When using Mercury rectifiers, you need to know they need some special attention. Before applying high voltage to them, they need to be fully warmed up. Even though they seem to work "cold" as well, it's wrong to do, and it written so in their datasheet not to do this.
Maximum output power: 50W 2 (Type A). Response Frequency response 10Hz 35kHz -1.5dB Rat. 87dB S / N ratio (weighted A). Working voltage: 110v-115V / 220v-240V / 50-60Hz. Single Ended triode mono block integrated amp (no need for a preamp).
Rectifier tube 5U4G, (It supplies the small tube section). Dimensions: 650mm x 420mm x 215mm. Weight: net 43 kg per each mono before packing (51 kg packed). Power Tube: GM70 triode, graphite type.
Output impedance (speakers recommended) 4Ohm, 8Ohm, 16Ohm. Signal Caps: paper oil capacitors Germany , Elna capacitors, TKD resistors. Keyword: altec lansing 515, altec 288, altec 291, altec 604, jbl 4344, jbl 4355, jbl paragon, jbl 375, jbl l200, jbl l300, ampliffier tube, amplifier mcintosh, tube 300b, tube 211, tube 845, tube gm70, horn driver 375, mono block, AMP tube, AMP Mcintosh, Krell, Pass Lab, Mark Levinson.
The item "High-End GM70 Mono Block Valve Tube Amplifier Split SE Class A Integrated" is in sale since Wednesday, June 24, 2020. This item is in the category "Consumer Electronics\Vintage Electronics\Vintage Audio & Video\Vintage Amplifiers & Tube Amps".
The seller is "tubeampstore" and is located in HCM. This item can be shipped worldwide.
Model: AMP TUBE GM70-Monoblock
Country/Region of Manufacture: Vietnam
Type: Tube Amplifier
MPN: GM70-Monoblock
Brand: Lansing Audio