Just Restored! Dynaco Dynakit Mk IV Monoblock Tube Amplifier Identical Pair Mkiv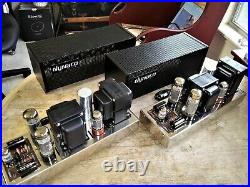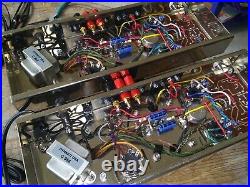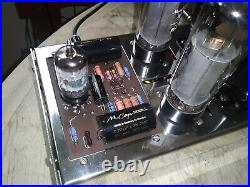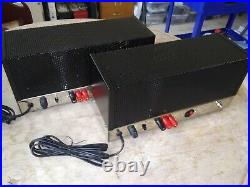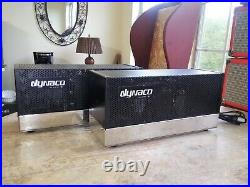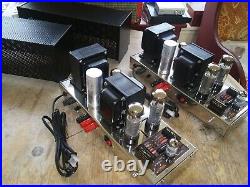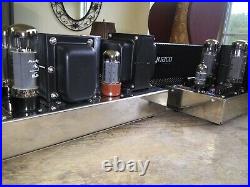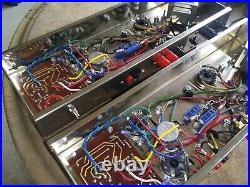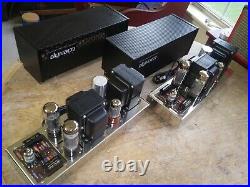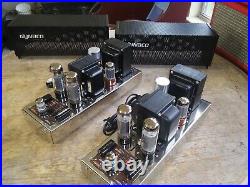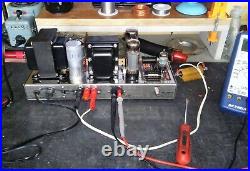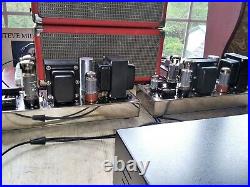 VINTAGE DYNACO DYNAKIT MK IV MONOBLOCK TUBE POWER AMPLIFIERS. IDENTICALLY MATCHED PAIR - SUPER NICE!
This pair of Vintage amps has just undergone a complete electronic and cosmetic restoration. This is a true "matched pair" of Dynaco MK IV amps, that's not often seen. Each amp has been electrically, mechanically and cosmetically restored and then rebuilt to identical standards.
The restoration was undertaken focused on making them identically matched and bring them back to a safe and reliable state while improving their their sonic capabilities, overall quality and appearance. They are just a magnificent pair of amps now. Each MK IV monoblock amplifier produces 40 watts of continuous power with peaks of output power reaching up to 90 watts each. The benefits and advantages of monoblocks are unparalleled. By having each channel operating completely separate, each output transformer having its own power transformer and not having to share a circuit board, the stereo separation and lack of "sag" due to a shared power source and common rectification, the monoblock is the pinnacle of tube sonics.
These are very impressive sounding amplifiers. These amps both feature their original vintage cloth lead Dynaco transformers. The PA-135 Power Transformers are mounted on heavy duty rubber isolation bushings to prevent mechanical hum from resonating through the chassis, which might appear as hum or noise through the speakers. Each transformer was tested, cleaned and cosmetically restored. These amplifiers / transformers should be operated only with a voltage reducing device to keep the current at approximately 117 Volts AC.
Modern household current, sometimes exceeding 125 volts is simply too high and will shorten the lifespan of the amplifier, causing damage to the transformers and other components. These vintage transformers were designed to operate at 117 volts, not 125 volts. This is important not only for the life and reliability of the transformers and components / tubes, but sonically as well. The vintage Dynaco A470 output transformers are legendary.
These too have the cloth covered lead wires and both of these transformers are date stamped 1960 on their bottom side. The C-354 filter chokes are new from Dynakit. These are encased in a metal housing for improved shielding, quieter operation. The C-354 chokes were repositioned under the chassis to allow for the larger style rubber feet to be installed, thus giving these amps a nice elevated stance. The original location of the filter choke would not allow room to install a foot on that corner of the bottom plate so the MKIV amps originally sat on 4 small rubber bumpers.
The amps look much better and are a lot easier to handle with these regular sized feet now in place. Brand new Dynakit PC-4 "B" circuit boards installed on both amps.
These use the stock original Dynaco circuit but are made specifically for using 6U8A or 6GH8A tubes instead of the vanishing and expensive 7199 tube. These tubes are nearly identical electrically to each other except the pin out arrangement is different. This board is made so that you do not have to use tube adapters to use the 6U8A / 6GH8A tubes. That's the only difference and the sound is the same as before. Dynaco developed this circuit back when 7199 tube production ceased, thousands of amps came direct from the factory with this circuit, this is not some "hacked together" modification, it's the real deal direct from Dynakit.
Contrary to some rumors and audio lore, these tubes sound every bit as good as the 7199. The 6U8A is robust and these amps each include matching military communication grade G. JAN-6U8A (NOS) tubes with their original boxes. Frequency response is improved by means of using very high quality capacitors and low noise metal film resistors throughout the entire amplifier. I chose Mundorf MCap Supreme and MCap-ZN capacitors for these amps and they sound fantastic. I also went with metal film and carbon film resistors in 5% tolerances to help retain the natural warmth of the original circuit design. The bias supply is all new and features 2 watt resistors and Vishay 100uF 100 Volt capacitors.
The bias potentiometers are also brand new, sourced direct from Dynakit. Safety diodes have been added to the rectifier tube sockets under the chassis. This is to prevent component damage from current flashback which can occur during sudden power on/off/on sequences like during a power failure or from anyone accidentally switching the amp off and back on too quickly. The Micalex tube sockets are all new as is all of the wiring.
The old preamp power takeoff socket on the rear of the amp has been replaced with custom bias set jacks. This simplifies the bias set procedure by providing two jacks for your voltmeter leads, one red(+) and one black(-).
Standard pointed meter leads will insert right into them and you hands are then free to make adjustments etc. (see second to last photo). Bias, just like the Dynaco 70, is suggested to be set at 1.56 volts DC (per amp), this is the factory specification. The output terminals are upgraded to nice sturdy banana jack / binding post types with gold plated contact surfaces. The amp is setup for 4 and 8 ohm output only.
The RCA inputs have been updated with very high quality nickel plated jacks, much better than the old original Dynaco jack. The power cords are new 2 prong polarized type. Each amp includes an inline CL-90 thermistor (inrush current limiter) mounted under the chassis. This device provides a time delay voltage ramp up during power up. The objective is to gradually apply the AC voltage rather than dump a full load on the cold tubes and transformers.
It "warms them up" slowly helping to reduce stress and failures from instant power surges that occur when the power switch is activated. The GZ34 rectifier tube also serves a similar purpose, slowly applying power to the amps tubes and audio circuit. The output tubes are factory matched EL34's from Nesstone. They are excellent tubes and look great too. The rectifier tubes are new Tung-Sol 5AR4 / GZ34 type. The chassis were disassembled to the last screw, hand polished and are really nice.
The covers are finished in high heat industrial high heat black and feature new custom made aluminum badges. One cover has two very small "dimples" in the top and I just could not completely get them out but they are very small and honestly, unless the light hits just right you can't see them.
I don't think you can even see it in the photos. Operationally I would rate these amps a 10 out of 10, they're as good as new, probably better than new. Cosmetically I will rate them at 8.5 out of 10 since there are some marks and typical signs of use and age. I've played these for about 12 hours to "burn them in" and continue to use them now to break everything in.
It takes about 40 hours to get new builds to open up and begin to really sound nice! The more you listen the better they'll get for some time. They already sound impressive but they will continue to improve as hours are put on them. A tube installation guild is included.
The MKIV manual is available for free in many locations on the web and contains full assembly, operating and diagrams with parts lists etc. The manual also explains the bias procedure. Ships UPS Ground only and will be insured for full value. Please see all my other listings for more great Dynaco and Dynakit gear!
DYNACO DYNAKIT MK IV MONOBLOCK TUBE AMPLIFIER IDENTICAL PAIR MKIV" is in sale since Thursday, May 20, 2021. This item is in the category "Consumer Electronics\Vintage Electronics\Vintage Audio & Video\Vintage Amplifiers & Tube Amps".
The seller is "funtasticvintronics" and is located in Coweta, Oklahoma. This item can be shipped to United States.
Model: MKIV
Modified Item: Yes
Country/Region of Manufacture: United States
Custom Bundle: Yes
Type: Tube Amplifier
MPN: Mark IV / MKIV / MK IV
Modification Description: fully restored, rebuilt and upgraded
Brand: Dynaco
Bundle Description: two amplifiers included (a pair)