MagnetFi Audio Special Series 6C33C Single Ended Triode SET Monoblock Tube Amps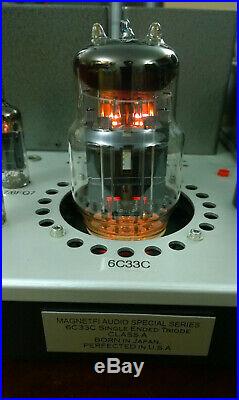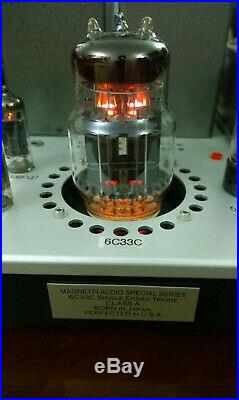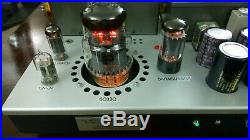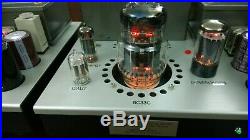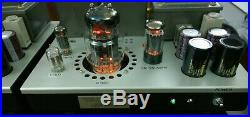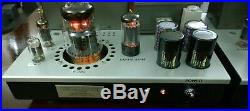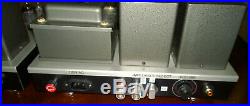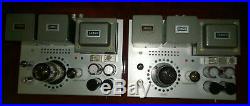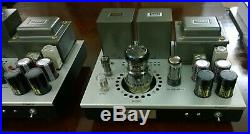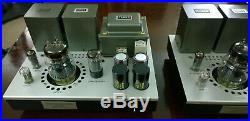 For sale are my treasured pair of custom made 6C33C Single Ended Triode (aka SET) monobloc amplifiers. They were professionally hand built and made in Japan with all the rare and exotic parts such as all Tango Transformers, point to point wiring, and all the hgh quality premium parts throughout. After I bought them and tried them on my specially designed 100dB efficiency line arrays, I was certain some voice and tonal characteristics can be improved with the coupling caps and other premium parts.
I have replaced the standard P/P film caps with the Mundorf Silver Oil Gold caps which are the best from Mundorf. All other caps (power reservoir filter caps) are replaced with the best and very long-life and very low ESR caps from Mundorf and Nichicon. I have extensively upgraded and improved them over a number of years while preserving the original tube circuit. They could be arguably one of the best sounding 6C33C SET amps at this price point using some of the best parts available and I believe they could rival the big brand like LAMM and BAT.
They are also very natural sounding without colorations added to the music. Maximum (peak-peak) Power output is about 45Watts Pure Class A with an 8ohms load connected to the 8ohms speaker impedance tap with 2Vp-p input signal. The RMS power at 8 ohms is around 12Watts with 2Vp-p input signal. Frequency Response is very high bandwidth due to the very excellent Tango Output transformers.
The measured frequency response is 15Hz to 60KHz with Power Bandwidth of only -0.5dB from 20Hz-20KHz at full power. The special made Tango transformer for 6C33C tube has multiple output taps for 4 ohms, 6 ohms, 8 ohms and 16 ohms. I have installed a very nice impedance selector U.
A made sealed type switch to try and better matched the impedance of the amps with your speakers at the convenience of a twist of a switch during playback. Also installed in each amp is tightly matched and hand selected New Old Stock Real Nobel Volume Pot so you can use as a volume control for the amps with the direct connection to your favorite CD Player or Cassette Deck / Tape Player.
Or you can adjust the volume trim to fine tune the dynamics between your preamp and the speakers. You can use the amps with the CD/SACD Player or Tape Player directly that have line output of 1Vp-p or more (2Vp-p standard Line output is preferable for direct connection to reach the full output of these amps). Then, I replaced all the signal coupling caps with the best caps from Mundorf.
All the signal coupling caps are Mundorf Silver Gold Oil Caps (best of Mundorf) for ultimate transparency and neutral sound. All the cathode bypass caps are also replaced with the Best Nichicon Caps and then bypassed with the proper value Mundorf Silver Gold Oil Caps.
Since the Japanese Tango Power Transformers are originally designed for use with 100V Japan Line Voltage, I decided to convert them to use with 120V U. I have also added IEC power connectors to try with the high-end power cords. All other electrolytic capacitors are Brand New from Nichicon to ensure the longevity of the amps. There are many other improvements new pair of high-quality silver-plated copper Speaker binding posts, new Aluminum isolation feet, brand new high quality 6C33C silver plated tube sockets; etc.
Although all the caps and many parts are new, the chassis has some minor blemishes. But both monoblocs are still highly presentable and visually striking (as 6C33C SET amp should be). The tube complements are One 6C33C, One 5AR4, One 12AU7, and One 6CG7/6FQ7 type.
All the tube sockets are labeled for proper tube replacement when the time comes to retube. Each amp comes with very strong 5AR4 Mullard / Hammond (texts / labels are nearly wiped off), NOS CONN (RCA) labeled clear top 12AU7, NOS US made Black Plate 6CG7, used 6C33C tube with unknown usage. In addition, I will throw in a Brand New Pair of 6C33c to ensure you are getting the best out of these amps. Last but not least, I added my MagnetFi Audio label for demo purposes for my speakers. They sound very clean with very holographic imaging as one should hope they are.
They are absolutely noise and hum free with a very quiet background on my 100dB+ sensitivity speakers so you don't need to worry about hum and noise with many other SETs. Furthermore, I have so much confidence in them that I will guarantee them for 30 Days for parts and labor in case anything happens. But they should really be working trouble free for many more years to come as every electrical component (except the Tango transformers) is NEW and less than a year old.
So, please dont make a low-ball offer! I have the hand drawn schematic for these amps and will only be made available to the buyers of these amps. I will not share the schema with the public due to the IP. Please ask any questions you have before purchasing them. 12W-15W of Pure Class A RMS (continuous power output). 40W+ peak power output for music signal. 3dB bandwidth exceeding 15Hz to 60KHz. 0.5dB bandwidth for maximum output with 20-20KHz Sine Wave.
Delay Start / Slow Start for Plate Voltage Supply. Auto Tube Biasing of 6C33C output tubes (aka Cathode Biased). Internal Voltage Conversion via voltage dropping resistors to use with 120V Power Outlets. The item "MagnetFi Audio Special Series 6C33C Single Ended Triode SET Monoblock Tube Amps" is in sale since Wednesday, February 13, 2019. This item is in the category "Consumer Electronics\TV, Video & Home Audio\Home Audio\Receivers & Amplifiers\Amplifiers & Preamps".
The seller is "buycompaq4less" and is located in Hesperia, California. This item can be shipped to United States.
Brand: MagnetFi Audio
Type: Tube Amplifier
Model: 6C33C