Manley Neo-Classic 250 Monoblock Vacuum Tube Amplifiers 6CA7 Triode Tetrode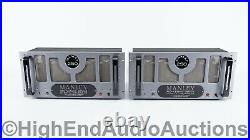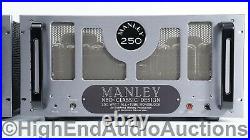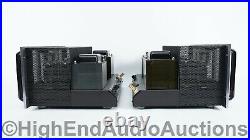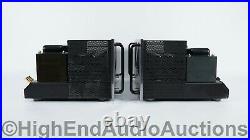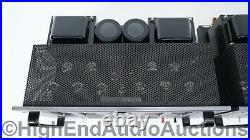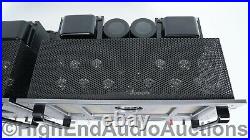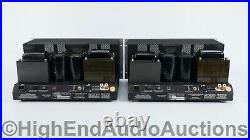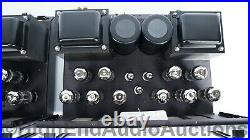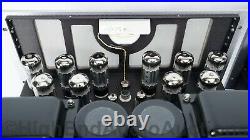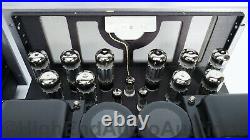 Sign up for our newsletter. Manley Neo-Classic 250 Monoblock Vacuum Tube Amplifiers - 6CA7 - Triode Tetrode. Strong testing Electro-Harmonix 6CA7 tubes installed. Tested on our Amplitrex tube tester. A magazine reviewer once wrote the following about the Manley 250's: In triode mode a pair of Manleys produces a remarkably three dimensional soundfield that is both convincing and seductive.
When switched into tetrode mode, the Manleys have the brawn to deliver a full symphony orchestra directly into your living room. " "When I listened through the same cut through the triode mode tube amps, I cried. Yup, tears ran down my cheeks while I bounced up and down, waving my arms, physically buffeted by the raw emotion of the music.
Emotion- that essential component at the very core of great music. The Manleys pass through that emotional information, but the (solid-state amps) don't.
Tried and true: The Manley 500 and 250 Watt Monoblocks are our most powerful push-pull production-models. Both the circuit design and the selected componentry have been refined over years and years of development.
Reliability that you can depend upon combined with musical accuracy and emotional authority is what these amplifiers promise- and deliver. They are able to switch operation modes allowing the listener to choose between the sonically seductive qualities of triode and the more powerful Ultra-Linear configuration. We use big, beefy reservoir capacitors in the high voltage supplies giving plenty of instant energy for dynamic performance of transient peaks and bass impact and weight which often exceeds that of rival solid-state amplifiers. We run high voltages on the plates of the output tubes but operate them at lower current which will result in their longer life. Although each output tube has its own bias-adjust, We carefully fit each amplifier with computer-batched tubes for optimum performance.
The bias adjustment pots and measuring points are conveniently located behind the oval front panel insert. To avoid a heavy power drain when the cold amplifier is first switched on, we conceived a "Soft-Start" mode which also functions as an "Ever-Warm" position allowing the amplifiers to be always warmed up for pleasurable listening. Each amplifier only consumes 30 watts of power in Ever-Warm mode. A blinking green LED reminds the user that the amplifier is in warm-up mode because as all the power supplies are at half-voltage, the amplifier will still operate at half power when the Ever-Warm mode is engaged, so the user should use the MUTE switch when in this mode. The front-panel mute switch and angled-back chassis make it easier to hook up the interconnects, speaker cables, and IEC power cord.
Driver Stage: High current double 12BH7EH (x2) Electro-Harmonix Russian. Input Tube: Tungsol 12AT7 large plate. BALANCED & UNBALANCED inputs: RCA and XLR jacks (switchable). MUTE switch: on front panel.
TRIODE / Ultra-Linear output mode switching: on front panel. SOFT-START turn on mode: minimizes in-rush current by first powering up amplifier to half voltages. EVER-WARM mode: for standby keeps tubes warmed up at half voltages.
MANLEY Precision Output Transformer: designed and wound at Manley Labs. Front panel bias measurement and adjust: Concealed under the black oval insert.
Output Tube Standing Current: 27.5mA. Set Bias for: 275mVDC measured across each bias tip jack to ground. Large filter / reservoir capacitors: 3800uF x 2. Angled rear of chassis: provides for easy connections. WBT binding posts: CE compliant for European models.
Input Sensitivity RCA: Triode = 1.637 V, Tetrode = 1.837 V for full power. Input Sensitivity XLR: Triode = 3.2 V, Tetrode = 3.6 V for full power.
Input Sensitivity Triode: 174mV for 1 watt into 8 Ohms. Input Sensitivity Tetrode: 146mV for 1 watt into 8 Ohms. Actual Output Impedance Triode: 0.538 Ohm. Actual Output Impedance Tetrode: 0.465 Ohm.
Optimum Speaker Load: 5 Ohms. Damping Factor Triode: 14.8. Damping Factor Tetrode: 17.2. S/N Ratio Ref 1W into 8 Ohms: -80 dB; -90dB A-WGT.
FLAT frequency response: 10 Hz - 30 KHz continuous. Power Consumption: 30 Watts in "EVER-WARM" mode.
Maximum Power Consumption: 815 Watts at full power. Operating Mains Voltage: Factory set for 100V, 120V or 220-240VAC operation for original destination country's mains voltage. Operating Mains Voltage: changeable with power transformer re-wiring and fuse value change. Mains Fuse 100-120VAC operation: MDA 10 Amp SLO-BLO Ceramic Time-Delay fuse.
Mains Fuse 220-240VAC operation: MDA 8 Amp SLO-BLO Ceramic Time-Delay fuse. B+ Fuse: MDA 1 1/2A SLO-BLO Ceramic Time-Delay fuse. Badge Illumination: Units produced before 4/2003 use 8V, 0.3A "Fuse-Lamp" 1/4" X 1 1/4". Serial numbers after N250188 use LED illumination which probably won't burn out.
Power Cord: Detachable IEC standard. Appropriate power cord supplied for destination country. Unit Dimensions: W=19" x D=13" x H=9 each. Please double this quote for a more accurate estimate.
All of the pre-owned items that we sell are thoroughly inspected and tested both on our test bench and in our listening room. Manley Neo-Classic 250 Monoblock Vacuum Tube Amplifiers , Power Cords. Single Loving Audiophile Owner / Non Smoker.
Very Good - Minor Blemishes and Scratches, one transformer cover has a personalized autograph painted over (From EvaAnna Manley to Tony). 75 lbs x 2 Boxes.
Our unique products, unparalleled service and "bombproof" packaging keeps our customers coming back again and again. We look forward to earning your repeat business! _gsrx_vers_1233 GS 8.1.1 (1233).
The item "Manley Neo-Classic 250 Monoblock Vacuum Tube Amplifiers 6CA7 Triode Tetrode" is in sale since Monday, October 26, 2020. This item is in the category "Consumer Electronics\TV, Video & Home Audio\Home Audio\Receivers & Amplifiers\Amplifiers & Preamps". The seller is "highendaudioauctions" and is located in Brooklyn, New York. This item can be shipped worldwide.
Model: Neo-Classic 250
Type: Amplifier
Brand: Manley