Matched Pair Dynaco Mark III Monoblock Tube Amplifier Audiophile KT88 + Mullard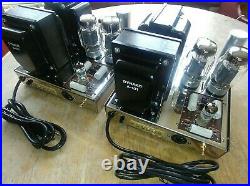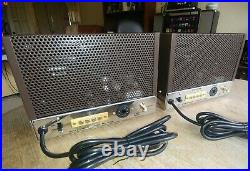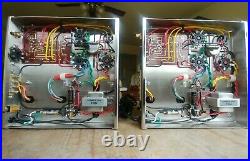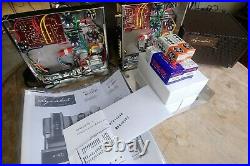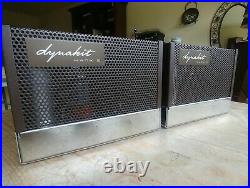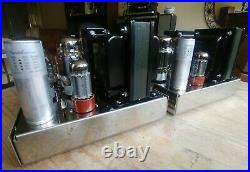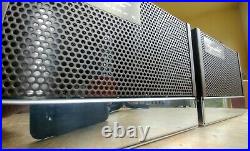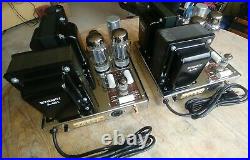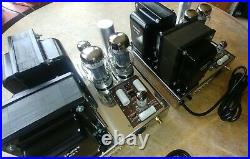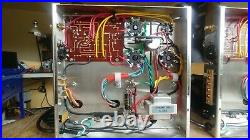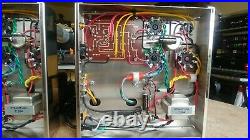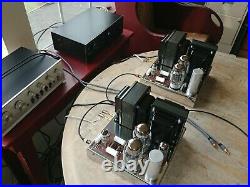 Brand New Fresh Build - M atched Tubes and Brown Amp Covers included! Dynakit / Dynaco Mark III Monoblock Tube Amplifier Pair - 60 Watts Each. These are 100% all new genuine Dynakit amps. Beautifully hand assembled - made in the USA. If you're in the class that believe that a vintage "original" condition MK III amp will sound better than an all new one, good luck on that.
I've run that road and found it disappointing and more expensive in the long run, not to mention the downtime as well as the work and frustration involved. What about the aesthetics, the cosmetic presentation. That's not important to some but it is very important to me. If appearance is important to you then you'll greatly appreciate the gleaming mirror polished stainless steel and extra sharp details of the circuit boards, the detailed wiring and the beautiful strong and crystal clear tubes.
This pair of amps will knock your eyes out and make your ears smile. Take a good close look at the finish quality of these amps, the quality of the soldering, component placement and the wiring. Here's a pair of amps you will be proud to own and use for a lifetime, as the photos reveal these are very nice. Beyond build quality I assembled a complement of quality and highly reliable components that ensure the performance and sonic abilities of these amps. To say they sound "very musical" would be minimizing.
Keep in mind, an amplifiers job is simply to amplify, that's what these do and they do so in spectacular fashion. Your preamp and speakers will ultimately complete and determine the end result of your systems sound. These amps are very transparent and have the power to push even large speakers to incredible listening levels if that's your thing. So shop around, look closely at what your options are, look at the details, think about what it will cost to get a pair of used amps sounding good, looking good and working right...........
Add in two voltage reducing transformers........... You've just spent more on those than these, and they'll never look like these do, no matter what. These are professionally built hand assembled amps for the guy who want's a little more than just average, you'll appreciate that even more when playing these. Each amplifier has a genuine Dynakit P-782 power transformer plus a an A-431 Output Transformer - The original (vintage) transformers are inarguably excellent, but they were designed to operate on 117 volts (think 1950's). Today's household AC current is often near and occasionally higher then 125 volts, so the use of a "step down" or "bucking" transformer is necessary to reduce the voltage down to a safe operating level for any vintage amp having its original transformers.
These modern Dynakit transformers are manufactured to work from standard, modern 120-125 volt household AC current. They operate cooler, produce less distortion and outperform vintage transformers in every category.
These transformers were reverse engineered from the original designs using many modern manufacturing technologies and superior insulations. These are super high quality USA made transformers that meet and exceed every aspect of the originals. If there were some sort of "magic" in cloth covered leads, Dynakit would have certainly insisted on using them. The truth is, there's simply no magic in cloth covered lead wire.
There's nothing wrong with cloth leads, they were the the standard of the time, but in any comparison, these new transformers are better than those old originals. Modern advancements in materials, combined with traditional methods and better technologies used in the manufacturing has resulted in absolutely superb transformers that produce improved sonics and cleaner power.
These transformers provide less distortion and increased reliability. This is not a 50 year old amp and is not pretending to be one. This is a modern amp based on a ingenious and very successful 50+ year old proven design. An inrush current limiter is incorporated into the AC mains to gently apply power during initial start up. Each MK III circuit board is a stock Dynaco PC-1 using the original circuit and a single 6AN8A tube.
These boards feature CDE 942C series capacitors for superior sonic performance and reliability. The 942 series have polypropylene film and dual metallized electrodes for both self healing properties and high peak current carrying capability. These are simply some of the best caps on the market at any price, they sound phenomenal. The smaller caps are Cornell Dubilier dipped silver mica. The resistors are a mixture of 1% screened metal films and 5% carbon films for superb accuracy while retaining the warmth so desirable in tube amplification.
Brands are TE, Vishay, and Dale. The tube sockets on the PCB are the high quality Belton Micalex type.
The diode rectified bias and power supply features F&T 100uF 100 Volt rated electrolytic capacitors for outstanding electrical performance. Upgraded Premium Dynakit 80/40/30/20uF multi section capacitors which are rated for 550V (600V surge). All of the wiring is 20 AWG USA made wire and is carefully routed and secured in the chassis, soldered with Kester 60/40 rosin core. Genuine Dynakit Shielded choke #C-354 for extra quiet operation. These amps are dead quiet.
Original style screw terminals for 4, 8 and 16 ohm speaker loads. Identically matched JJ KT88 Tubes. These tubes were tested and analyzed using the ROE computer tube matching system - these tubes sound awesome, one of the best rated KT88 tubes on the market. Ordered brand new as a matched quad just for these amps. The tubes are unlabeled & unmarked.
The tubes were intended for private labeling to be used as the OEM tubes in their high end production amplifiers. These tubes were hand selected, tested and graded, these were a great find and they sound as beautiful as they look! Test matched and sweet sounding pair of vintage Gt. Britain Mullard 6AN8A tubes with GE labels in their original boxes. New Tung-Sol 5AR4 / GZ34 rectifier tubes with their original boxes.
3 Prong Grounded Power Cord. Genuine Dynakit mirror Polished stainless steel chassis with Brown covers and Dynakit labels. These amps are a true identically matched set. These are modern, brand new amps made to operate from standard (USA) 120-125 Volt AC current.
You do not need a voltage reducer to run these amps , just plug them in and go. These amps sound fascinating, crisp, rich and a most articulate soundstage.
Driving a large pair of horn loaded cabinets with 12 woofers these amps bring the room to life effortlessly. The vocals, horns and strings are almost disturbing. I've played every genre from Classical to Classic Rock and simply don't want to shut the amps off. Even after several hours of moderate level listening the transformers are simply warm to the touch. The bass response is incredible, the extra capacitance was certainly worth the investment. The amps shown in the photos are the amps you are going to receive, nothing else in the photos is included but may be available in other listings if you're interested.
The sale is for the two MKIII amps, the tubes, the covers and the manuals for the amps. Each amp will be individually double boxed. Tubes will be removed and properly packaged inside each amps individual box. Parasound, emotiva, linn, Hafler, Krell, Dunlavy, Spica, Sonic Frontiers, high end Ponce Kef Energy Revel Sonus Faber Audible Illusions Audio Research Muse Orb Athena Transparent Audioquest Purist Audio Rel velodyne Luxman Advent VPI Thorens Solus amp Paradigm Amplifier Audio, HiFi, Audiophile, Music, Sound, Adcom Advent Aragon Magnepan Paradigm Accuphase Acoustic Research Akai Alpine Amphion Apogee Audio Research Audiolab Audiopax Bang & Olufsen Bose Boston Acoustics Boulder Bowers & Wilkins B&W Cambridge Cary Celestion Classe Conrad-Johnson Creek Crown Denon Duntec Dynaco Dynaudio Epos Eminent Technology Fisher Focal JMLab Fostex H. Scott Harman Kardon Heathkit Heath kit Jensen JVC Kenwood KEF Klipsch Krell Legacy Turntable Linn loudspeaker Luxman Magnepan Marantz Mark Levinson Martin Logan McIntosh Meridian Mordaunt-Short Moscode Musical Fidelity multi-channel NAD Nagra Naim Nakamichi Onkyo Pass Labs Perreaux Phase Linear Pioneer Polk Pro-Ject ProAc PSB Quad Realistic Rega Rogers Roksan Rotel Sansui Sherwood Shure SME Soundcraftsmen speaker Stax Tannoy TEAC Technics Thorens Threshold Totem Velodyne Wharfedale Wilson Yamaha vintage record player tuner receiver Vandersteen Vpi Sota Aeriel Acoustic Esoteric high end Rowland stereo sub woofer cd amp hifi sound music vintage monitor avalon sonus snell emotiva polk carver jvc jbl spendor mirage fostex spica altec dahlquist thiel rotel genesis definitive infinity garrard bryston lenco amp canton rel records cartridge turn table, record player, audiophile, Scott, arcam, Ortofon, nikko, music hall, sennheiser, grado, beyerdynamic, akg, NHT, Nikko, jolida, Audeze,, rega, etymotic, westone, audio technica, ultrasone, stax, jolida, parasound, rogue audio, clearaudio, burson, bryston, dynavector, epos peachtree, sumiko, vincent home theater, surround sound, video, audio, music, movies, tunes, a/v, electronics, components, kef, paradigm, Yamaha, denon, acuras, luxman, musical fidelity, Marantz, ayre, Conrad Johnson, parasound, genesis, sonus faber, reference, klipsch, sony, bose, harmon kardon, revel, preamp, amp, preamplifier, magnepan, meridian, martin logan, polk, definitive bookshelf acoustat technology, mythos, tube amp, anthem, cyrus, moon audio, monitor audio, focal, halo, crown, jbl, wharfdale, carver, nad, nht, emotive, krell, outlaw, wyred 4 sound, rotel, lexicon, onkyo integra, mark levinson, cary audio, woo audio, ps audio, bel canto, nuforce, roksan, halcro logic, theta, adcom, ati, sunfire, atlantic technology, Cambridge, burson audio, audiophile, top of the line, flagship, reference, wilson audio, aerial, vandersteen, vivid, harbeth, joseph, lansche, magico, marten, tad, thiel, vienna acoustic, voxativ, adam, audio note, golden ear, line magnetic, linn, psb, nola, spendor, atc, audience clairaudient, canalis, dynaudio, gradient amplifier preamplifier tube valve solid state vintage classis serviced rebuilt custom high end stereo mono monoblock speaker turntable reel to reel deck player cd DAC RCA sylvania tung sol telefunken mullard siemens rft 12ax7 el34 el84 6sn7 12au7 6cg7 7247 dual triode push pull 2 channel sansui realistic elac dual technics audio research rega planar uturn thorens home audio bookshelf floorstanding satellite rackmount cable interconnect patch studio hifi.
The item "Matched Pair Dynaco Mark III Monoblock Tube Amplifier Audiophile KT88 + Mullard" is in sale since Tuesday, August 10, 2021. This item is in the category "Consumer Electronics\Vintage Electronics\Vintage Audio & Video\Vintage Amplifiers & Tube Amps". The seller is "the_dynaco_show" and is located in Coweta, Oklahoma.
This item can be shipped to United States.
Model: Mark III
Modified Item: No
Country/Region of Manufacture: United States
Custom Bundle: Yes
Type: Tube Amplifier
MPN: MKIII / Mark 3 / MK III
Brand: Dynaco
Bundle Description: two complete amps, 2 brown covers and 2 JJ KT88 + 2 Tung-Sol 5AR4 + 2 Mullard 6AN8A, matching manuals included.