PAIR Bogen Presto MO100 MONO BLOCK CA. 1960 HIFI 100WPC 6550 TUBE AMP AUDIOPHILE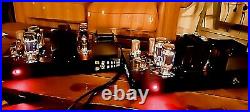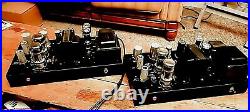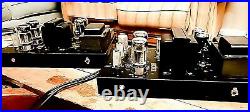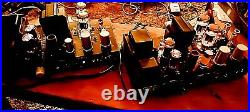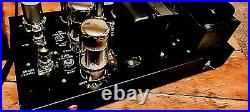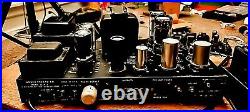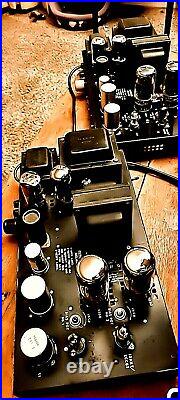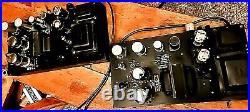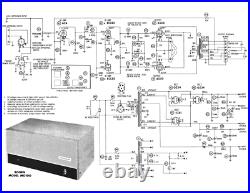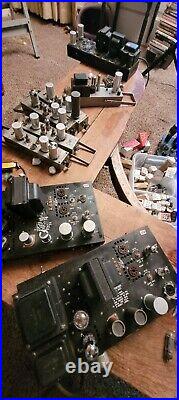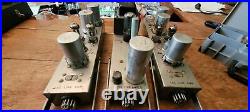 Awesome pair of mono blocks, the original muscle tube amps, a super conservative 100wpc, and audiophile sound and specs. For some reason there isn't a lot written about these, but I know that the frequency response on these models, the MO30 up to the MO200 is a staggering 5hz to 30K... They are accurate, they are hifi and they will play beautiful music or hammer nails for you... This was a different era of Bogen. They are fast amps, they have insane frequency response, they are VERY POWERFUL and built like tanks...
This is not the Bogen brand you know from all of those horrid wimpy PA systems in the mid 60's, this isn't even the COOL M0100 that you remember, but a crazy earlier version that uses 6550 tubes and is so huge and decadent, it eats those Marantz, and Dynaco's for lunch! This is a very small window in time when the company was still making very high end stuff...
RIGHT after the buyout of the company and the acquisition of Presto, a professional maker of studio tape recorders and studio cutting lathes. Bogen was still on the cutting edge of studio sound, crafting austere power factories, to impress with sound more than looks...
And they really did make some of the best hifi units of the 50's and early 60's... In fact, the best sounding amp I've ever owned was a BP60, from 1963... And it actually was rather attractive looking, unlike the austere, spartan looks of most of the Bogen amps... And that was 1963, and probably the last serious effort from Bogen to change the world of sound...
But the parent company found his niche wasn't making the best amps, but making the most, for schools, and other large institutions that needed high quality sound systems, and another crazy contingent, using his amazingly powerful amps to automate assembly lines, hammer nails, shake tables and throw things really fast! A lot of these classic amps were used as early analog robotic helpers! These both date from the same period, bought together for a local studio in 1960 with two other amps, and some very nice preamps. The inputs are RCA jacks on the back and the other RCA's are apparently a way to link the two in mono to once source.
AND, most importantly, they both have their original matching transformer, which allows you to run XLR/low impedance into this, using the LOW-z inputs, three screw terminals in the rear. And coming after this one, as soon as I get it finished, is the equally as rare and equally as cool, original MO60, from 1960 as well...
And i have a rare 1952 mono receiver coming along too, at some point, an early Bogen, with some great old tubes and balloon style 6L6's.. The iron in these things is brutal, huge...
Nearly indestructible, as I've never seen a bad one! And the sound is perfect.
Several fans of these on line, but the original version (this one) is supremely hard to find, much less two original matching mono blocks in this clean of condition. I have gone over every single part in these and replaced anything out of specs. A lot of the basics have been completely replaced, like filter caps, out of specs resistors, pots, etc... Replaced one of the bias adjust pots that had seized from age, replaced the power cords with three prong, got rid of the shock hazards, replaced the power tubes with matching duets of Svetlanas, with nos Mullard 12AX7's from 1965 in the preamp, vintage RCA 6C4's, vintage rectifiers, and new/NOS 6CA4 rectifiers as well. Cleaned and calibrated, had to create one of the relay jumper inserts, new pilot lights, and ran it for a full week powering my studio monitors...
As perfect as it gets.... Guaranteed to not be DOA.
The item "PAIR Bogen Presto MO100 MONO BLOCK CA. 1960 HIFI 100WPC 6550 TUBE AMP AUDIOPHILE" is in sale since Wednesday, June 2, 2021. This item is in the category "Consumer Electronics\Vintage Electronics\Vintage Audio & Video\Vintage Amplifiers & Tube Amps". The seller is "swe071" and is located in Collinsville, Illinois.
This item can be shipped to United States.
Model: 100WPC 6550
Brand: Bogen