Pair of Bogen MO-100 Mono Block Vacuum Tube Amplifiers. Custom Audiophile Mods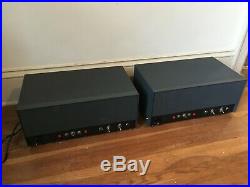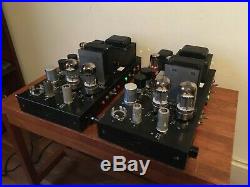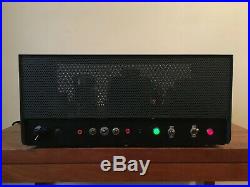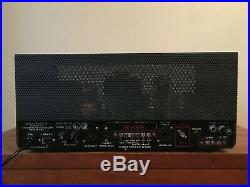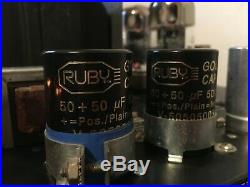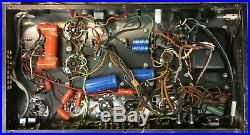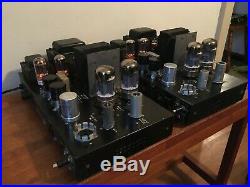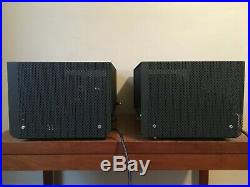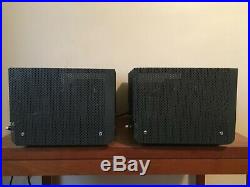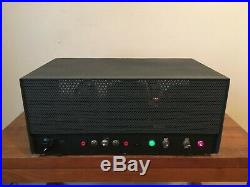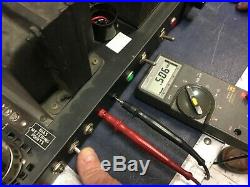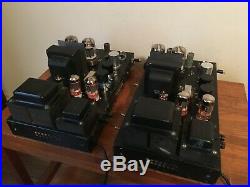 Vintage Mono Block Vacuum Tube Amplifiers. Custom Refurbished and Modified by Al Forbes at Alpha Sound. Rated 100 Watts Per Block. Tube Compliment: 2X6550, 2X5AR4 / GZ34, 6CA4, 12AX7, 6C4. The video below was shot after they were given a full bench test at Alpha Sound in Charlotte NC. Up for sale are a special pair of custom refurbished and modified Bogen MO-100 mono block tube amplifiers. These were intended to be used as industrial grade amplifiers and have been upgraded for hi-fi audiophile use by Al Forbes at Alpha Sound. There are 4 vintage GE 6550 power tubes and 4 brand new Ruby 5AR4/GZ34 rectifier tubes.
There is a third 6CA4 rectifier, a 12ax7 phase inverter and a 6C4 input tube. All tubes test as new or very strong. I recently painted the tube cages a gun metal grey with automotive grade paint. I will include the schematics and 1/4 to RCA connectors for plug and play operation.
Some people confuse these with the Bogen MO-100A. Different amps and use a. 1 Upgrades include better quality filter capacitors with more capacitance and higher grade coupling capacitors. A choke was added to the screen supply which made the amps significantly quieter. High voltage filter capacitors have been bypassed with small value Orange Drop caps for better HF stability.
2 A green standby indicator switch was added, I highly recommend that it be used to preheat the tubes 60 seconds before high voltage is applied. 3 The way these amps were built, in order to test bias or read the tube current, it was necessary to remove the tube cage and open links between two screw terminals. This inserts a 10 ohm resistor in the cathode circuit of each tube to monitor current. To make things much easier the bias test points have been moved to the front panel adding a momentary switch.
You are looking for 0.5 v or 1/2 volt at each test point which corresponds to 50mA per tube. This is the factory recommended setting. 4 Grounded power chords were added.
The result of the work above are two extremely. Musical sounding amplifiers with stunning imaging and very accurate reproduction. You would have to spend several thousands of dollars an amp to get this quality of sound with a modern equivalent.
Output impedance is selectable for 70v line, 25v line, 16 ohms and 6 ohms. I recommend the 6 ohm tap when using 8 ohms speakers.
Set this way they will clip at about 70W into 8 ohms. You can disconnect the feedback resistor which greatly increases the gain. You can also substitute a 12au7 instead of the 12ax7 phase inverter to tame the excess gain. This will give the amp a different character. Currently they are at stock configuration with feedback, I prefer the way they are set now.
Bogan MO-100 Vacuum Tube Power Amplifiers. The item "Pair of Bogen MO-100 Mono Block Vacuum Tube Amplifiers. Custom Audiophile Mods" is in sale since Monday, February 24, 2020. This item is in the category "Consumer Electronics\Vintage Electronics\Vintage Audio & Video\Vintage Amplifiers & Tube Amps". The seller is "hperullo13" and is located in Charlotte, North Carolina.
This item can be shipped to United States.