Pair of Grommes Precision Electronic G-101-A Mono Block Tube Power Amplifier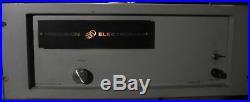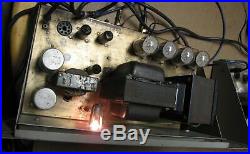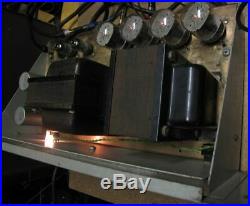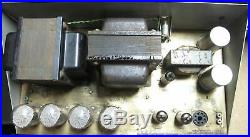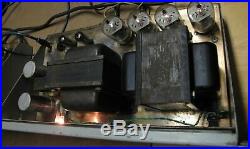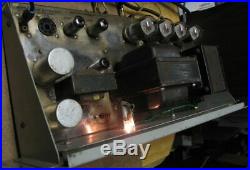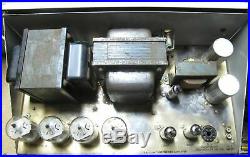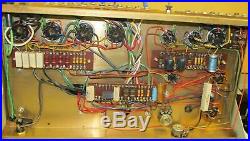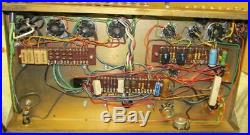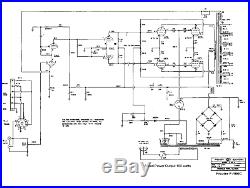 A Pair of Precision Electronics G-101-A (Frazier F-106C) Mono Block Tube Power Amplifier Using a Quad of 6GT5/A Beam Power Tubes in Parallel Push-Pull (PPP). Mode for 100 RMS Watts each amplifier In Prefect Working and Nice Cosmetic Conditions.
Note: This is my third pair Mono Amplifiers using quad of 6GT5/A tube in Push-Pull Parallel (PPP) mode for 100 RMS Watts each mono amplifier. Here is an amazing pair high power tube amplifier with perfect working and nice Cosmetic Conditions, each of them using Quad Beam Power Tubes of 6GT5/A, original means for TV Horizontal-Deflection Amplifier Applications, while engineers in Precision Electronics used them in Parallel Push-Pull (PPP) mode for audio amplifier to drive out pure 100 RMS Watts per Mono Block. The front panel looks very nice while the top of the chassis had not been clean up. The bottom under the chassis is very clean no rust and or dust since the bottom clover protected it very well.
These Precision Electronics G-101-A (Frazier F-106C) Mono Block Power Amplifiers were designed by Pricision Electronics. This pair mono block power amplifiers are from late 60s/70s and. They are point to point soldering with tag boards inside the metal chassis. All 4 Can Caps for this pair Mono Block Amplifiers have been carefully reformed for their full capacities. There is a lighted Precision Electronic Logo in the front panel for power- on indication built-in to distinct from Frazier F-106C Mono Block Amplifier.
There are six pairs individual output terminal sets can be strapped for 5.6 Ohms or 12.6 Ohms output for 4 Ohms, 6 Ohms, 8 Ohms or 16 Ohms modern speakers. Notes: strap as 5.6 Ohms output for 4, 6, or 8 Ohms speaker; or strap as 12.6 Ohm output for 8, or 16 Ohms speaker. Even after close to half a century, they are not only looks awesome for their ages, they work great and their sound quality is fantastic. Since I got this pair mono block amplifier long time ago, they have been working great without any service is needed for my music listening. It is truly a must for anyone who loves to listening Music. If they are designed today, they will cost more than eight grand for sure. Now, you can grab them with an affordable BIN price, or give me your reasonable offer for me to take it. Precision Electronics G-101-A (Frazier F106C) 100 Watt Tube Amps. 100 watt beam power tube power amplifier with true high fidelity characteristics. Low harmonic and intermodulation distortion. Stable with all loads or no load. Special output transformer with 6 secondarys for multiple impedance by strapping (May be balanced or unbalanced). Highly reliable 6GT5/A output tubes. Regulated low voltage screen supply. Silicon bridge rectifier power supply. 600 Ohms or high impedance input (Connects to a CD player or Pre-Amplifier output).
Power Output: 100 Watts RMS, 120 Watts Music Power. Frequency Response: +0 1 DB 20 to 30,000 Hz at 1 Watt. +0 1 DB 25 to 20,000 Hz at 100 Watts RMS.
Distortion: 2% harmonic or 3% inter-modulation at 100 Watts RMS. Input Sensitivity: High impedance 0.8 volt for 100 watts, 600 Ohm 15 DB for Watts, 10K Bridge 8 DB for 100 Watts RMS. Output Impedance: 6 x 8.4 Ohms, or strap for 5.6 Ohms or 12.6 Ohms for 4 Ohms, 6 Ohms, 8 Ohms, or 16 Ohms speaker connection. My collections include Audio Amplifiers from Fisher, Scott, Dynaco, Harman Kardon, Altec Lansing, Audio Research, Mcintosh; Speakers of Bose, JM Lab, Phase Technology; Test Equipment of B&K, H/P, Tektronix, collectable Turntables, Video Camcorders, and more.
All my collection items are in good working condition as indicated in the listing. If the item is not in working condition, I will state clearly to indicate the non-working issue in the listing. Besides reducing my collections, I also start the Service for Vintage Tube Amplifiers or Receivers. You are obligated to pay for the item. Failure to pay will be penalize. I will respond within 24-48 hours, minus weekends. The item "Pair of Grommes Precision Electronic G-101-A Mono Block Tube Power Amplifier" is in sale since Sunday, February 24, 2019. This item is in the category "Consumer Electronics\Vintage Electronics\Vintage Audio & Video\Vintage Amplifiers & Tube Amps". The seller is "tngan408" and is located in San Jose, California. This item can be shipped worldwide.
Type: Power Amplifier
Brand: Grommes-Precision Electronic
Model: G-101-A
Country/Region of Manufacture: United States