PAIR QUICKSILVER 8417 MONOBLOCK POWER AMPLIFIERS WithTUBES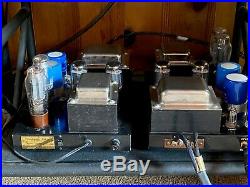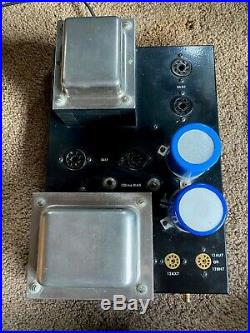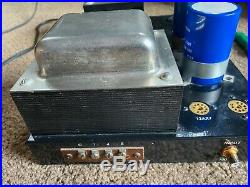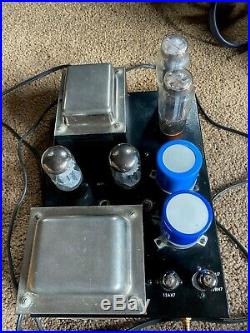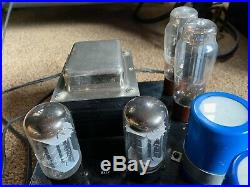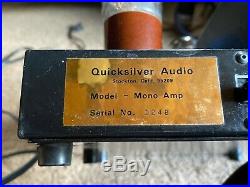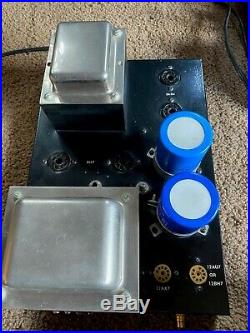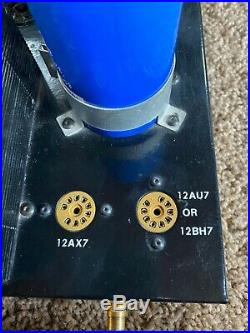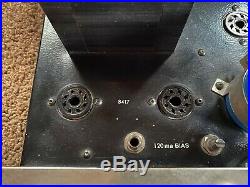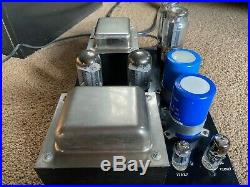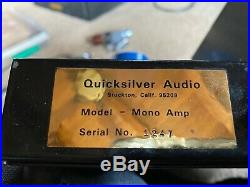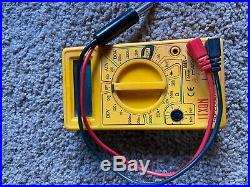 A excellent pair of Quicksilver Audio 8417 monoblock amplifiers. These are built rock solid by Mike Sanders at Quicksilver Audio. Harder to come by these days. I have derived much pleasure from these but just not doing audio like I use to so I'm keeping my lesser Quicksilver mini mites for my purposes, but they are not anywhere near the sonic quality of the 8417 tube nor do those have the tube rectification the 8417 monoblocks do.
I'll provide a couple links but I encourage you to do your research and learn about the sound. Obviously you have an interest since your looking at the listing. Sanders doesn't design for "looks" as you can see these are basic blocks, but his stuff is always dependable, rugged and great sounding.
Each block weights about 30 pounds. The tube compliment for each is: Two 8417 power tubes, Two 5AR4/GZ34 rectifiers (however, you can use the GZ37/CV378 rectifiers, which I have for years), 1 12AX7 and 12AU7/12BH7.
I prefer the 12BH7 or 12BH7A in that slot. Each uses a 3 Amp fuse.
A note here -- I can't recall the speakers I first drove with the 8417's, but they were not high efficiency and these fuses would blow fairly regularly. Once I used higher efficiency speakers (Klipsch Forte, a custom horn pair) not a single fuse blown in years.
Lesson -- you need decently high efficiency speakers to be really happy with these amps, no 88 db models for example. At least in my experience. The 8417 tubes must be biased from time to time, especially when installing new tubes.
I'm linking a PDF on doing that. It's easy, don't be intimidated. I'm including the little digital meter Mike included when I bought them. Just set it at the marked point and follow instructions.
The operating instruction are quite useful. Once you become familiar with the amps they are pretty much hassle free, save tube changing. The 8417 and rectifiers need changing rarely depending on use, just rotate out the small signal tubes from time to time. They put out a decent about of heat, so give them room above to breathe. Speakers connect to the 8 ohm tap and ground.
So you are getting a quad of 8417s, a quad of CV378s and a pair of TungSol black plate D getter 12BH7A tubes along with the amps and voltmeter. Yes, they have some use on them but no problems at all. The rectifiers should be good for the long haul, though I've always made sure to have one or two as back up. Don't want to have a party and a tube decides to blow right before the guests arrive. Frankly, I think this is a great deal given the tubes included.
Any questions, feel free to contact me. The item "PAIR QUICKSILVER 8417 MONOBLOCK POWER AMPLIFIERS WithTUBES" is in sale since Friday, April 3, 2020. This item is in the category "Consumer Electronics\TV, Video & Home Audio\Home Audio\Receivers & Amplifiers\Amplifiers & Preamps".
The seller is "thamnosma" and is located in Mount Baldy, California. This item can be shipped to United States.
Model: 8417 MONOBLOCK AMPS
Type: Power Amplifier
Features: Analog
Color: Black
Power: 60 W
Brand: Quicksilver