Peavey 3120 120 watt 3-ch USA tube guitar amp 4x6L6 CLEAN OR CRUNCHY! MONOBLOCK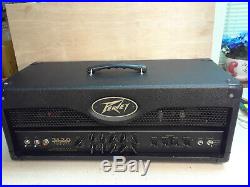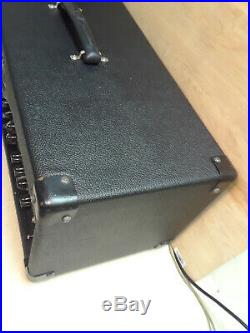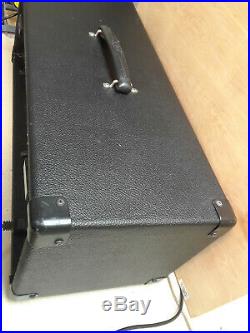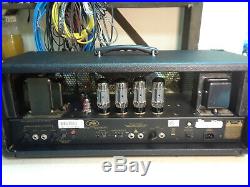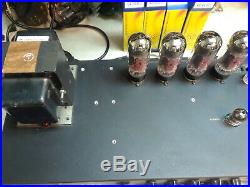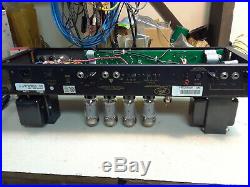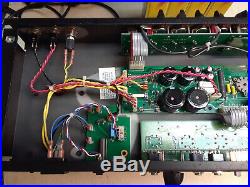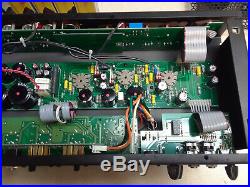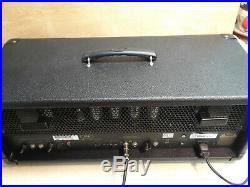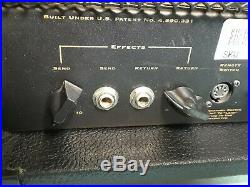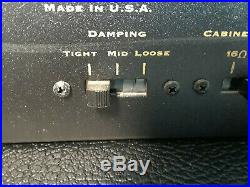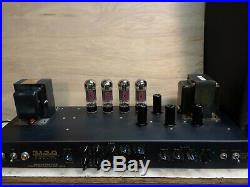 Peavey 3120 3-channel tube guitar amplifier 4x6L6 120 watt CLEAN OR CRUNCHY! Here is an amplifier in great condition, just serviced with ALL NEW J&J vacuum tubes (4-12AX7 preamp and 4-6L6 output) matched sets.
Bias was set to the recommended 38ma using a cathode probe. Consider a new set of matched tubes plus setting bias will set you back approx. Note the massive transformers in the photos, and note that the output transformer (the one without the copper band) is the same size as the power transformer, indicating a high-quality amplifier with excellent bass response! One of the three channels is set up for clean use, and I suggest running the volume on it at about the 10:00 position, and the master gain at 3:00, and this will give you a lot of headroom without distortion. When you WANT distortion, there are two high-gain channels that you can go crazy with- you can set one for crunch with a lot of sparkle, and cut the mids and highs on the other, boost the bass and enjoy chunky distortion with it.
Crank it until the po-po shows up at your place!! All 3 channels have low, mid, and high controls and the two high-gain channels have both volume and gain controls so there are many possibilities to sculpt your sound.
Switching between channels is super easy- just use the 3-position toggle switch on the front panel, or an optional footswitch that plugs into the back (not included with the amp). Note- be sure the speaker(s) you use with this amp are rated for 120 watts total or more.
If using two cabinets, each cabinet should be 60 watts, or ideally 75 watts per cabinet or more. If you play extended length gigs at very high volume with lots of distortion, you should increase these wattage recommendations to 200 watts (or more) total for the cabinet(s) used.
Any amplifier can exceed the RMS wattage when pushed into distortion. MONOBLOCK NOTES - Can a guitar amplifier be used as an audiophile monoblock amp? Usually the answer is NO, due to higher levels of distortion and coloration of the sound, both of which are desirable in the guitar world. THIS AMPLIFIER IS AN EXCEPTION! On the back of the amplifier, you will find an effect loop, which can be used to easily BYPASS all the high-gain stages where the mega-distortion happens.
Just patch your preamp out directly into the 1/4" "effects return jack and you have access to the amplifier just ahead of the main volume control and the quad 6L6 output stage. (Other controls will not have any effect).
It is labeled "damping", and should be set for "tight" for minimum distortion, solid bass and clear mids, and extended and detailed high end. You can also experiment with "medium" and "loose" and run the amp however you prefer. "Loose" produces even more bass, but less detail on the high end, and more pleasant tube distortion. Once you hear the settings you will understand why they were named the way they were.
Probably not, but it nonetheless a lot of fun to listen to in a hi-fi system and this is the first guitar amp I have run across with acceptable performance for this use. Use it in your hi-fi during the week, and take it out and gig with it on the weekends! Amp is heavy at around 45 lbs, mainly due to the massive transformers.
The item "Peavey 3120 120 watt 3-ch USA tube guitar amp 4x6L6 CLEAN OR CRUNCHY! MONOBLOCK" is in sale since Tuesday, October 8, 2019. This item is in the category "Musical Instruments & Gear\Guitars & Basses\Guitar Amplifiers". The seller is "joeelectro" and is located in Tunnel Hill, Georgia.
This item can be shipped to United States.
Brand: Peavey
Number of Channels: 3
Compatible Guitar: Electric Guitar Amplifier
Amplifier Technology: Vacuum Tube
Amplifier Type: Head