Quicksilver Audio 8417 Mono Block Tube Amplifiers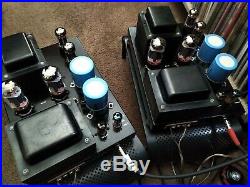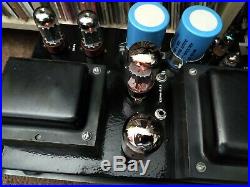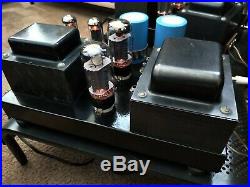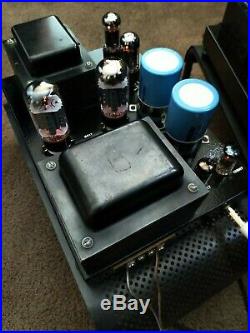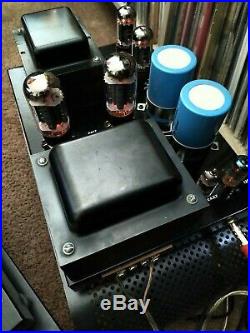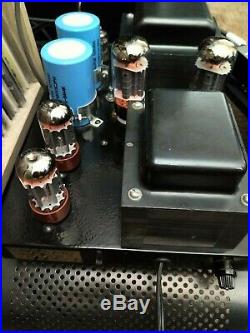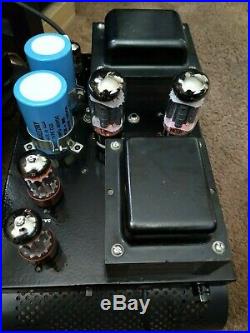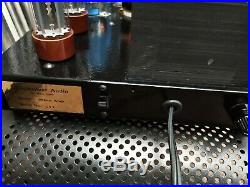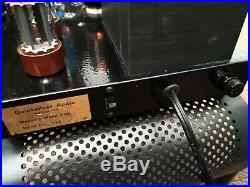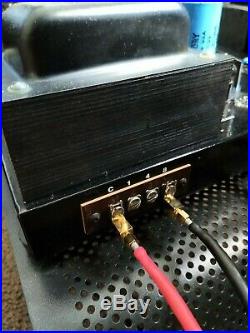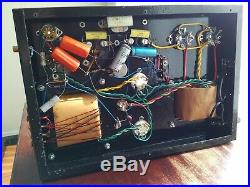 Quicksilver 8417 (Phillips) Mono Block Tube Amplifiers in excellent working condition and nice cosmetic condition. These 8417's feature consecutive serial numbers and are of the original Phillip's version and not the GE version that came out several years after. The Quicksilver 8417 mono blocks are some of the the finest amplifiers ever made.
They have a marvelous, true classic tube sound. And the 8417 tube is a special kind of tube with a huge warm sound and wonderful detail and nuances of vocals, instruments and low end extension.
No other tube sounds quite like the 8417 tube. This pair has not been altered/modified to use EL34 tubes or its equivalents as many 8417's have. For a long time I owned both a pair of modified 8417's and a pair of unmodified 8417's and after listening to both side by side, I decided to sell the modified mono blocks. The modified 8417's with the EL34 tubes and its equivalents just did not have that magical sound that the unmodified 8417's have.
Four tightly matched 8417 Sylvania/Fisher NOS tubes are included along with four Tung-Sol 5AR4 rectifier tubes; two NOS Brimar ECC82/12AU7 tubes and two NOS Mullard 12AX7 tubes. All the tubes have about five months use so there's plenty of good life left in them. The included, original milliamp meter (not pictured) is flimsy but accurate. Four gold plated banana plug adapters/connectors are included.
I don't sell electronics that don't work and I baby all my stereo components. You will not find a spec of dust outside or inside my amplifiers.
Questions and answers that may be helpful. Hi Dan, Both the Precision Fidelity C-7A passive preamp and Counterpoint SA-3.0, only have MM phono stages. I used an Audio Interface CST-80 (40 ohm) step up transformer with those preamps so that I could use MC cartridges. But it's all in the complete system. I remember a couple of professionals in the audio business saying that my system would be a bit noisy if I used the QS 8417's with my Counterpoint SA-3.0 tube preamp and my 101dB sensitivity speakers.
But it wasn't at all noisy. Martin, I appreciate the information. This is the second time that I seriously looking at the Quick Silver's amps. One thing I omitted is I mostly use a SL1200 Mk2 with a Denon 103 MC low gain cartridge.
Would these preamps have MC phono stage? I could use a separate phono preamp. Hi Dan, I might suggest a preamplifier with low gain.
Somewhat difficult to find preamps with low gain, though. I used the QS 8417's with a passive preamp (Precision Fidelity C-7A, zero gain, of course) and Klipsch RF-7II - II speakers (101 dB) and it was an excellent match. But I also used them with a Counterpoint SA-3.0 (modified) tube preamp (25 dB gain) and the same speakers and it sounded just as good, although I had less "play" with the volume control in this setup. With high gain preamps and efficient speakers, you'll need to be extra careful that the preamp and sources aren't "noisy" or you'll hear it.
Currently I'm using JBL4311's and I like them a lot. I'm restoring a pair Jensen's xl700 which have horns, and more efficient than the JBL's Thanks, Dan. Hi, It'll help me to answer your question in a better manner if I know the speakers you'd be using. Hi, What a good preamp to use with these amps?
I'm confused as I've read that some GE tubes are branded Sylvania or others (if that makes sense) and the amps for sale only work with Phillips tubes? Thank you in advance for your response.
Hi LV, The Quicksilver Audio 8417 (Phillips) Mono Blocks should only use 8417 tubes made by Sylvania or Phillips. Youll see some 8417 tubes made by Sylvania and Phillips branded for Fisher, RCA, etc. These are perfectly fine to use. Although, I do understand that some have used GE 8417 tubes without issue, I would advise against doing that. All 8417 tubes from reputable sources are going to be on the pricey side, but they will last a very long time.
The previous quad of 8417 tubes were in use on my mono blocks for more than two years before I changed them - and I listen to music every day of the week. And the tubes were still working, but as a general rule I replace power tubes on my amps every two to three years because I use them much more than the average person.
You can trust these sellers to sell you the correct 8417 tubes. Lastly, 8417 tube are not extinct like some think. It's just that like many other very high quality and rare tubes, they are not that readily available. They have lots of good life left in them. So, whats the availability of these tubes? I know that theyre out of production. How long have you owned the amps? Any noise or hum or any issues with it at all? Ive had the Quicksilver 8417s for four years. The first owner bought them back in the mid 80s, as I recall him telling me. And every few years he would send them to Mike Sanders at Quicksilver Audio to have his amps checked and tuned up. I was very lucky to obtain such well cared for amps. Now regarding noise and hum, if you know anything about tube amplification, you know you will have that no matter which amp you bring out. The question is, how much "noise" or hum is too much? Some say it should not be heard from more than 1 ft. Away from the speaker tweeter (or amplifier) at ear level.
Away and still many others say as long as you cannot hear it from your listening position, then it's OK. And all of this also has to do with your stereo system. Did you hear any noise or hum from the very close up video I took of the amplifiers? At one time, I had the 8417s connected to a stereo system using 103 dB sensitivity speakers and if I got my ear within one foot at the tweeter level of the speaker, I could hear system noise/hum, but I couldnt hear it from more than one foot away. This is an important question to consider, especially if youre coming from a solid state amplification standpoint.
Tubes and solid state are very different. The item "Quicksilver Audio 8417 Mono Block Tube Amplifiers" is in sale since Saturday, March 23, 2019. This item is in the category "Consumer Electronics\Vintage Electronics\Vintage Audio & Video\Vintage Amplifiers & Tube Amps". The seller is "bressonr" and is located in Glendale, California. This item can be shipped to United States.
Model: 8417
Modified Item: No
Country/Region of Manufacture: United States
Type: Power Amplifier
Brand: Quicksilver Audio