Western Electric 300B Single-Ended Monoblock Tube Power Amplifiers 310A 274A 5Z3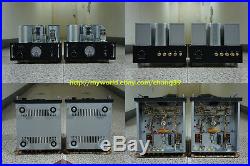 "Global art product, World best & Top-class in the High-Quality Handmade Tube Amplifier Masterpiece by YB Lee who is a World's Best Tube Amplifier Manufacturing Craftsman". Please, check my other listings for more valuable items regularly. Many thanks for your interesting. ===> Hot Special Handcrafted Product of High-End'Sound Master YB Model' in Perfect Working Condition (Limited Edition for Best YB Tube Amp Series) <===. Note that a World's Best Technical Master Craftsman (YB Lee) manufactured high-end of this professional item in a limited quantity only in the high production costs for a sole owner in the world.
We smoothly exports our great tube preamplifiers, tube power amplifiers and other excellent audio products all over the world (Current 50 Countries: Australia, Austria, Belarus, Belgium, Brazil, Bulgaria, Canada, Chile, China, Denmark, Estonia, Finland, France, Germany, Greece, Hong Kong, Hungary, Indonesia, Ireland, Italy, Japan, Kazakhstan, Korea, Luxembourg, Macau, Malaysia, Mexico, Netherlands, New Zealand, Norway, Israel, Philippines, Poland, Portugal, Qatar, Romania, Russian Federation, Singapore, Serbia, Spain, Sweden, Switzerland, Taiwan, Thailand, Turkey, Ukraine, United Kingdom, United Status, Uzbekistan, Vietnam) for Global Dealers, Audiophiles & Music-lovers for over long years without troubles. Do not miss this rarely great chance for your ideal listening life absolutely.. Get your only one perfect style for the best sound. There is a very special outstanding tube power amplifier in the world absolutely..
This is a very attractive High-End Model of Great 300B SE Stereo Monoblock Power Amps by very excellent Vintage Electric Parts NOS & Very rare Vintage Single-Ended Audio Output Transformers.. Do not miss a Limited Chance for your happy listening life, truly a special owner of a unique individual design, a limmited quantity & a very rare power amplifier with stunning sound.. This is so wonderful that you feel that nothing can equal it at similar prices certainly.. T his 300B SE Power Amplifiers have attractive, graceful, pretty and early old melodious in natural sound.
Note that it is very excellent 300B Single-Ended Monoblcok Power Amplifiers in the sound, performance, quality, electrical parts & schematic seriously. Certainly Guarantee for the Delightful Performance.. Here is a High-End Model of Great Western Electric 300B Single-Ended Stereo Monoblcok Tube Power Amplifiers in perfect working condition & New product by World Best Handmade Hardwiring. Very rare Vintage Single-Ended Output transformers, B Voltage Choke transformers, Filament Choke transformers & Power transformers in very excellent working condition getting very hard to find in the world. It looks very attractive design, the great condition, overall in very excellent cosmetic shape in perfect working order.
It sounds attractive, sweet & comfortable, feel much better than other 300B Single-Ended Power Amplifiers sound. This item has been fully tested, inspected, cleaned, and serviced to ensure that it is in all around best condition, Mechanically, Electronically, and Cosmetically! Designed, Handmade & Hardwiring by a world best craftsman who has great wide ideas & over 40 years vintage technical experiences with best know-hows.
Most electrical parts in a amplifier have used Vintage electrical parts in New Old Stocks in 1930's1960'sVintage Output transformers, Choke transformers, Power transformers, Tubes, Condensers/Capacitors, Resistors, Front Panel Meters, WE Cloth Wires, Military Shielded Silver Plated Copper with Teflon Insulation Wires, etc. This Monoblock Power Amplifiers work great, have natural powerful, dynamic, warm & sweet sound for your heart! This attractive amplifier is ready to provide for several decades of listening pleasure! This Great Handmade item worked by a world best technical master craftsman with Vintage electrical parts/units in New Old Stock(NOS) will outwear & much better than vintage amplifier goods absolutely.
This is a unique High-End version for 300B Single-Ended Monoblock Stereo Power Amplifiers. Audio manias & collectors a very valuable item in perfect condition. Over half a century still great working without any problems for user's sweet listening! Glass ST Driver Tubes included, 5Z3/274A x 2 Pcs4 Pin, Matched Pair, Tested Working very excellent Vintage U. Glass ST Rectifier Tubes included.
Total 4 tubes included in this listing specially. Output Transformers: Very Rare Vintage'Western Electric' Single-Ended Audio Output Transformers.
Output Impedances: 16, 8, 4 ohms. Available connect for 220 ohms Speakers. Real Output Power Watts: 16 Watts RMS = 8 W (Per channel) + 8 W (Per channel) => Output Tubes Watts.
B Voltage Choke Transformers:'THE W' High-Quality Nickel Permalloy Z Core Choke Trans New. Filament Choke Transformers:'THE W' High-Quality Nickel Permalloy Z Core Choke Trans New.
THE W' High-Quality Nickel Permalloy Z Core Power Trans New. Power Supply Voltages: Available for 6 kinds of Power Supply Voltages as AC 100,110,120,220,230,240V 50/60Hz (AC 100120V 50/60Hz & AC 220240V 50/60Hz) for Worldwide.
Very easy, simple & comfortable change the power supply voltage by the inside voltage connect bolt for global buyers. Chassis: Strong steel plate(Material). Double dark silver color painting with vivid coating. Finished bake chassis for protecting the paint from peel off.
Chassis Feet(New Products, 4 Pcs): Black color Rubber feet in good quality included. Gain: To gain something such as volume means to have an increase in that particular thing. Direct using is available for this item with Line Input(CDP, Tuner, MP3 Equipments, Smartphone, Tablet PC, Computer & etc) by the RCA interconnect cable without Preamp. Power LED lamp for Showing Turn On/Off.
Front Panel: 20mm Duralumin(Material). Front Panel Meters: Vintage Analog Style New Stock Meters. Binding Post(Speaker cable connections, New Stocks):'ULTIMAX AV', Plated of high density. Ground(Earth) connection Power cables included(2 Pcs): Offered suitable style for 100120V or 220240V Power cables. Consulted(refered) Electric Circuit(schematic): Creatived & Designed Electric Circuit by a world best technical craftsman's great ideas, wide vintage technical experience & deep know-hows with Vintage Legendary Power Amplifiers.
Front Panel Meter Purpose: Excellent stylish appearance, User's easy checking for 300B tubes current working condition & Showing main 300B output tube's sensitivity measurement/life/conditions. The front panel needle point at the middle position shows the normal sensitivity for 300B tube's life and the normal new condition for 300B tube's working mostly. The front panel needle point will under the middle position slowly after long time using 300B tubes as the slowly decreased life and it is not move or little moving if 300B tubes have some problems. Dimension: Wide 320 mm(12.60 inch) x Deep 370 mm(14.57 inch) x High 255 mm(10.04 inch). Weight: Approximately 62 kg(136.69 lb) included professional secure packing with enough Air-caps & Styrofoams(Bubble Cushioning Materials) in double boxes with excellent packing. This amplifier style is a limited great unique model of 300B Single-Ended Monoblock Power Amplifiers in the world and a winner would be a special owner of a unique individual design, limmited quantity & a very rare amplifier with fantastic sound in the world.
Please just comparing, searching & checking the details of price, inside & outside everything between this highly valuable item and any other vintage Triode Single-Ended Power Amplifiers or current 300B Single-Ended Power Amplifiers. Do not miss this great chance for your listening life! Truly reasonable best offer prices with good manners would be smooth accepted for both deep satisfaction, happiness & informing a World Best Technical Master Craftsman's great tube amplifiers in the world! Always glad to receive a big order from good sellers in your country for mutual excellent business smoothly. Wanted more each country's Exclusive Distributors/Business Partners in our great products with best offered dealer prices for your regular oreder & best sale.
Please, contact me if you are high interesting seriously.. Please, refer & check the actual photos carefully for other details.. This Stunning 300B Single-Ended Monoblock Stereo Power Amplifiers with Tubes(Total 4 Pcs) will arrive as it appears in photos without 300B Output Tubes(2 Pcs) in this listing. Hope you understand rightly please. Please, don't waste each other's valuable time seriously. I always have a smooth deal with verified good buyers only! Note that transit times may vary, particularly during peak periods. So it should travel very well.
I leave a reciprocating feedback. It will be smooth solved with as speedily as possible for each other.
I WILL TAKE BUYERS WITH THE FOLLOWING REQUIREMENTS. Automatically blocked all Non-payers in my auctions and fixed listings. Please, check my other listings for more great items regularly. Thanks for looking at my items & Good luck!! The item "Western Electric 300B Single-Ended Monoblock Tube Power Amplifiers 310A 274A 5Z3" is in sale since Friday, April 28, 2017. This item is in the category "Consumer Electronics\Vintage Electronics\Vintage Audio & Video\Vintage Amplifiers & Tube Amps". The seller is "chang39" and is located in Seoul. This item can be shipped worldwide.
Brand: THE W Since 1973
Model: High-End Sound Master YB 300B SE Monoblocks
Amplifier Type: Tube Power Amplifier
Main Tubes: 300B x 2 Pcs
Purpose: Triode 300B Single-Ended Monomono
Output Transformers Model: Vintage Western Electric Single-Ended Output Trans
Output Impedances: 16, 8, 4 ohms
Power Supply Voltages: Available 100,110,120,220,230,240V for Worldwide
Producer: YB Lee - World's Best Tube Amplifier Master
Production Method: Best Handmade Hardwiring
Condition: Mint Product in the Perfect Working Condition
B Voltage Choke Trans Model: High-Quality Z Core B Voltage Choke Trans
Filament Choke Trans Model: High-Quality Z Core Filament Choke Trans
Type: Power Amplifier